Each week we will highlight one of the many databases we have here at the Pomerantz Business Library.
The database: IBISWorld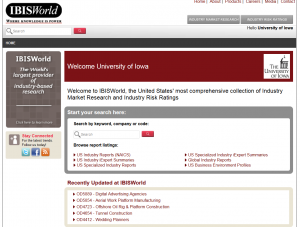 Where to find it: You can find it here, and under I in the databases A-Z list.
Use it to find:
US Industry Reports – The "NAICS collection analyzes industries at the 5-digit level offering the latest content on 700 industries. Each report consists of 30 to 40 pages of key statistics and analysis on market characteristics, operating conditions, current and forecast performance, major industry participants and more".
US Industry iExpert Summaries – These summaries" condense[] the integral elements from [the] industry reports into bite-sized paragraphs, graphics and tables, highlighting the key issues with a Q&A section
US Specialized Industry Reports – Additional industries not covered in standard NAICS industries.
Global Industry Reports – currently around 70 of these
US Business Environment Profiles – The "Business Environment Profiles provide insight into [ ] key drivers, which include exchange rates, commodity prices, interest rates, weather conditions, consumer attitudes, demographics and many more".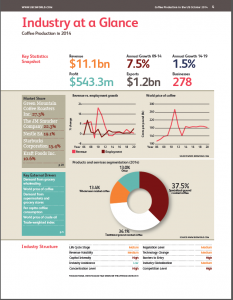 Tips for searching:
Browse by clicking on the report type headings – and then by industry sector
If you know your industry's NAICS code search using the first 5 digits.
Feel free to do a keyword search for an industry, company or product
Use the magnifying glass icon to search within a report
Check out the IBISWorld tutorial below:
Want help using IBISWorld ? Contact Willow or Kim and set up an appointment.