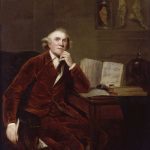 JOHN HUNTER (1728-1793). The natural history of the human teeth. London: Printed for J. Johnson, 1771.
John Hunter was an anatomist and surgeon, practicing in London. His tireless energy helped him to overcome whatever obstacles his educational and cultural lacks may have provided. "Hunter remains one of the great all-round biologists like Haller and Johannes Müller, and with Paré and Lister, one of the three greatest surgeons of all time. . . . Hunter found surgery a mechanical art and left it an experimental science" (Fielding H. Garrison).
One of Hunter's most important works was this treatise on the teeth. This book was the first scientific study of the teeth and is basic to all modern dentistry.
You may view this book in the John Martin Rare Book Room, Hardin Library for the Health Sciences. Make a gift to the Hardin Library for the Health Sciences by donating online or setting up a recurring gift with The University of Iowa Foundation.