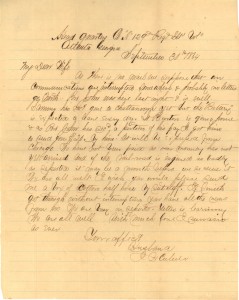 Head Quarters Co. "A" 129th Regt. Ills. Vols.
Atlanta, Georgia September 30th 1864
My Dear Wife
As there is no mail, we suppose that our communications are interrupted somewhere, & probably no letters go north.1 Bro. John [Murphy] was here last night & is well. Sammy [Murphy] has not gone to Chattanooga yet, but the "Battery" is expected to leave every day.2 Lt. Burton is going home,3 and, as Bro. John has recd. a portion of his pay, I got him to send you $20 by him. It will be expressed from Chicago.
We have not been paid as our money has not yet arrived, and, if the rail-road is injured as badly as reported, it may be a month before we receive it.4
We are all well. I wish you would please send me a box of cotton half hose by Sutcliff.5 If [Lt.] Smith got through without interruption, you have all the news from us.6 We are busy on reports; Yetter is learning. We are all well. With much love, I remain, as ever,
Your affect. Husband
J. F. Culver
To cope with Forrest's cavalry and protect the Western & Atlantic Railroad, Sherman had rushed General Newton's division to Chattanooga and Brig. Gen. John H. Corse's to Rome, Ga. The force guarding the Nashville & Chattanooga Railroad was also strengthened, while Gens. Lovell Rousseau and Robert S. Granger marched to intercept Forrest with 8,000 men. On the 26th Sherman learned from his scouts that Hood's Army of Tennessee had broken camp and had marched west from Lovejoy's Station, and was camped in and around Palmetto Station on the Atlanta & West Point Railroad. Upon receipt of news that Forrest's column was closing in on Pulaski, 70 miles south of Nashville, General Sherman ordered General Thomas with Morgan's XIV Corps to return to Tennessee. There he would push a column west through Stevenson to threaten Forrest's rear. Forrest, after briefly occupying Pulaski on the 27th, had turned east toward the vital Nashville & Chattanooga Railroad. Fayetteville was occupied on the 28th, and small parties sent to cut the telegraph and railroad north and south of Tullahoma. Next day Forrest advanced toward the railroad, but at Mulberry, on learning that Thomas had massed a strong force at Tullahoma, he called a halt. Forrest now divided his corps: Brig. Gen. Abraham Buford with 1,500 men headed south toward Alabama, with instructions to wreck the Memphis & Charleston Railroad from Huntsville to Decatur, while Forrest with the main column turned west to raise additional havoc on the Tennessee & Alabama Railroad. Damage to the railroad and telegraph, north and south of Tullahoma, caused by Forrest's raid on the night of the 28th was repaired in less than 12 hours. General Thomas on the 30th from Chattanooga telegraphed Sherman that "this place" is "crowded with officers and soldiers on leave and furlough. No more should be allowed to leave until the [rail] road is reported clear to Nashville." Sherman was agreeable, and he notified his army commanders to stop all furloughs. Although damage to the railroad and telegraph had been slight, all trains had been pre-empted to rush reinforcements north to cope with Forrest's raid. O. R., Ser. I, Vol. XXXIX, pt. I, pp. 546-47; pt. II, pp. 459-532.
Although Company M was under orders to follow Newton's IV Corps division to Chattanooga, another month was to pass before the artillerists were able to board a northbound train. Report of the Adjutant General of Illinois, Vol. VIII, p. 667.
Thomas Burton of Chicago, a 20-year-old clerk, had been mustered into service on July 16, 1861, at Cairo, Ill., as a private in Company A, 1st Illinois Light Artillery. He was promoted to corporal on Dec. 1, 1861; was wounded at Shiloh on April 6, 1862; and promoted to sergeant on July 1, 1862. Sergeant Burton was discharged on Oct. 14, 1862, to accept a commission as 2d lieutenant in Company M, 1st Illinois Light Artillery. He was promoted to 1st lieutenant on March 31, 1864, and was mustered out at Chicago on July 24, 1865. Compiled Service Records of Union Soldiers, NA.
Damage inflicted by Forrest's raiders on the railroads over which Sherman supplied his "army group" was insignificant. But with Hood's army across the Chattahoochee and striking north, this situation was about to change.
Pvt. William Sutcliff, having received a 20-day furlough, had accompanied Lieutenant Smith. Regimental Papers, 129th Illinois, NA.
Lieutenant Smith, having received his discharge, had boarded a northbound train for Chattanooga on the 27th. Grunert, History of the 129th Illinois, p. 106.