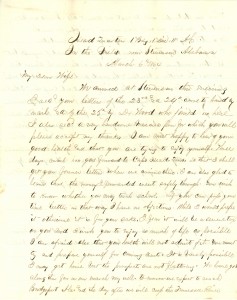 Head Quarters, 1st Brig. 1st Div., 11th A.C.
In the Field near Stevenson, Alabama
March 6th 1864
My Dear Wife
We arrived at Stevenson this evening. I recd. your letters of the 23rd and 24th, came to hand by mail, and of the 25th by Dr. Wood who joined us here.1 I also recd. a very handsome Masonic pin, for which you will please accept my thanks. I am most happy to hear of your good health and that you are trying to enjoy yourself. Three days' mail has gone forward to Corps Head Qurs., so that I shall get your former letters when we arrive there [in Lookout Valley]. I am also glad to learn that the money I forwarded went safely through.
You wish to know whether you may teach school.2 If you can pass your time better in that way, I have no objections; while I would prefer it otherwise, it is for your sake. I fear it will be a severe tax on you, and I wish you to enjoy as much of life as possible. I am afraid also that your health will not admit of it. You must try and prepare yourself for coming events.3
It is barely possible I may get home, but the prospects are not flattering. We have got along thus far on our march very well. To-morrow we expect to reach Bridgeport, Ala., and the day after we will cross the Tennessee River. Where our destination will be next, we cannot tell. Should we be sent to Mobile, we will have no mail facilities for months.4 It is still only a rumor as yet & perhaps without foundation.
I forgot all day that it was Sunday. I feel ashamed of myself, but it does sometimes happen so. We have been on the march almost two weeks. The weather is beautiful & the roads good. We marched 14 miles to-day, started at 6 o'clock this morning & went into camp about 2 this P.M.
Chris [Yetter] and Nate [Hill] are looking anxiously for a letter from you. I presume Harry McDowell & Jim Morrow are having a grand time. Remember me kindly to all our friends and give my love to all the family. I will send this letter to Capt. Hoskins & request him to take it home with him. He is still in Nashville.
I have written every day but one since we started. May our Father in Heaven bless you and keep you by Divine Grace. Continue to pray for me. God has been merciful to us; let us hope for a continuance of his favor and in all things praise Him.
Accept all the love and affection of your
Husband,
J. F. Culver
P.S. A very serious Collision occurred on the Rail Road at Anderson in which a Paymaster's daughter, two soldiers' wives, and one little babe were killed and several wounded.
Mary Culver's letters of Feb. 23, 24, & 25 are missing from the Culver Collection. Orlando S. Wood, a 25-year-old physician, was mustered in as assistant surgeon at Stevenson, Ala., on March 6, 1864. He was promoted to regimental surgeon on April 9, 1865, and mustered out near Washington, D.C., June 8, 1865. Compiled Service Records of Union Soldiers, NA.
See J.F.C.'s letter of March 1, 1864.
Mary Culver was three months pregnant.
There was no substance to rumors that a powerful column was to be sent southwest from Chattanooga to attack Mobile. This story was triggered by news that General Sherman with two corps had advanced east from Vicksburg and had captured Meridian and that Farragut's squadron was anchored off the entrance to Mobile Bay. Sherman's army by March 6 had returned to Vicksburg, and on the 4th General Grant had directed him to transfer most of his troops to Memphis, and be ready to join Grant at Chattanooga for the spring campaign. O. R., Ser. I, Vol. XXXII, pt. III, p. 19.