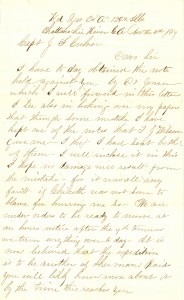 Hd Qrs Co "A". 129th Ills
Chattahochie River GA Nov the 3rd /64
Capt J F Culver
Dear Sir
I have to day obtained the note held against you by Dr Jonson which I will forward in this letter I See also in looking over my papers that through Some mistake I have kept one of the notes that T J Wilson gave me. I thot I had Sent both of them. I will inclose it in this I hope no damage will result from the mistake, for it was all my fault if Chilcoth was not Some to blame for hurring me so. We are under orders to be ready to move at an hours notice after the 4th tomorow we turn everything over to day. It is now believed that the expedition is to be another of Sherman's Raids you will likly know more about it by the time this reaches you we are having verry cold and wet weather here now rather a disagreeable time to Start out.
Lieut Fitch has Command of the Co yet his detail came from the Hospital but the Col Sent It back Fitch wants the position and has gone to Atlanta to day, I think to See Something about it Cook and Kelly have been Sent to the Rear the Docter wants BB Allen to go
I do not know that I will get to write again Soon if this moove prooves to be a raid of cours we will not get any mail. With regard to the getting of those clothing for me, you will have to be guided by your own Judgment. It would probably be as well not to get them but get the boots & gloves. I will write again if we Should remain here many days
Yours &c [T?]
Chris C. Yetter