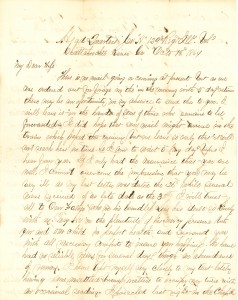 Head Quarters, Co. "A" 129th Regt. Ills. Vols.
Chattahoochie River, Ga., Octr. 18th 1864
My Dear Wife
There is no mail going or coming at present, but, as we are ordered out for forage in the morning with 5 days' rations, there may be an opportunity in my absence to send this to you.1 I will leave it in the hands of some of those who remain to be forwarded. I did hope that some mail might arrive in the trains which passed this evening, but we leave so early that it will not reach here in time. So I am to wait 5 long days before I hear from you. If I only had the assurance that you are well. I cannot overcome the impression that you may be very ill, as my last letter was dated the 26th while several were received of as late date as the 30th.2 I will trust all to "Our Father" who in his boundless Love has dealt so kindly with us. May He in the plentitude of his mercy preserve both you and our child in perfect health, and surround you with all necessary comforts to insure your happiness.
We have had no reliable news for several days though an abundance of rumors.3 I have kept myself very closely to my tent lately, having some unsettled business matters to occupy my time with and occasional reading. I preached last night in the Chapel tent of the 79th Ohio to a large & interesting Congregation from Deuteronomy 5-9. God was pleased to bless me.
Squads of Rebel Cavalry have been hovering around our lines for several days. To-day they captured 25 men & 150 mules with some private horses that were taken out to graze;4 once before, several men and mules. I think that is what gave rise to this Expedition which is for the double purpose of scouring the country & obtaining forage. Nate [Hill] is on picket and will be left behind. We will miss our comfortable tents and fires.
How very fortunate we have been thus far in being left to garrison this place. Our lot has fallen in the most pleasant places all through our term of service, and, though we have lost heavily during the Campaign of our best men, yet we outnumber a large majority of the Regiments in the service, and our Brigade is among the largest in the Army,
We have been gleaning from the papers recd. by Saturday evening's mail [the 15th], the particulars of the battles in the East and the aspect of political affairs in the North. Rumor is afloat here that the "Copperheads" have carried Indiana by considerable majority at the State Election on the 11th inst.5 We still hope it is an error. The soldiers of that State, like ourselves, are not allowed to vote.
The Pay-master paid off the 105th Ills. to-day but has run short of funds. As there has been no opportunity to transport funds with safety, we must abide by our misfortune without complaining. As [Lt.] Smith promised to see you supplied, & Lt. Burton has probably reached Chicago & ford. the money sent by him, I have given myself but little uneasiness on that score. I hope you will not hesitate to accept of any funds which may be offered that you need, for we have no assurance of being paid very soon.
Jim Mitchell was married on the 4th inst. to a Miss Clara Carter of New Albany, Ind. Dr. Reagan recd. their cards a few days ago. Col. Ben. Harrison is stumping the State of Indiana and has been nominated for a Brig. Genl.'s commission, Genl. Ward for Major Genl.6 Col. Smith, 102nd Ills. commands the Brigade at present, & Col. Dustin, the Division.7
I saw a letter from Sam Maxwell to Wm. B. Fyfe bewailing the fate of "Poor Culver," saying that his "Democratic friends pitied more than they derided him."8 I should take opportunity to answer it were it not that the time will be very limited after my return before the Election.
Jim Morrow is looking well. Allen Fellows has enjoyed very good health lately. I saw Connelly to-day;9 he is well. Also Harry McDowell. Green is busy to-night preparing rations for our expedition.
I hear a train coming up from Atlanta which may possibly have mail for us, though it is doubtful, as there has scarcely been time to distribute it since the trains went down. But I must close for to-night. I will enclose three Photographs. I sent one in my last [letter] & think they will be very acceptable for your collection. I will get one of Genl. [O. O.] Howard as soon as opportunity offers.
Give my love to Mother and Maggie. Kiss baby for me & Remember me very kindly to all our Friends. Tell Remick that I will not probably be able to write such an answer to his letter as he desires, but, had the mails been going out, I would have been prompt in replying. I hope the letter written Mr. Decker arrived safely as it may answer, at least in part. May our Father in Heaven bless you with all needful blessings. Preserve us in life and health from danger and sin and fit our hearts for a close communion with him. If consistent with his will, our communion will be sweet when our duty to our Country is discharged. Let us pray and take consolation from His promises. Good Bye.
Your affectionate Husband
J. F. Culver
Attacks on the Western & Atlantic by Hood's army had by October 10 caused a great scarcity of forage in and around Atlanta to feed the horses and mules. It became necessary to forage upon the country. During the next several weeks, General Slocum sent four large foraging expeditions and a number of lesser ones into the neighboring counties. O. R., Ser. I, Vol, XXXIX, pt. I, pp. 668, 680.
Soldiers of the 129th Illinois on October 14 had received the "first mail … for many days." Grunert, History of the 129th Illinois, p. 112.
Hood's army, with Sherman's columns closing in, had abandoned its efforts to destroy the Western & Atlantic Railroad and, covered by a strong rear guard, had turned southward after passing through Villanow. Sherman followed. By the evening of the 17th, Sherman was satisfied that Hood had gone south by way of Summerville toward Gadsden, Ala., having given up his plans to cross the Tennessee River anywhere above Muscle Shoals. Next day found Sherman's "army group" continuing its pursuit through the mountains of northwest Georgia. On the 20th Hood's army was at Gadsden and Sherman's at Gaylesville. There Sherman halted for a week, watching Hood's movements, "proposing to follow him if he attempted to cross the Tennessee near Guntersville, but determined to carry out his plan of a march to the sea if Hood should go to Decatur or Florence." Cox, Atlanta, pp. 237-39.
A detachment from the 102d Illinois was ordered out on October 18 to recapture the livestock, and succeeded in recovering three horses and two mules. O. R., Ser. I, Vol. XXXIX, pt. I, p. 684.
Rumors that Indiana had been carried by the "Copperheads" were wrong. Oliver P. Morton, the Republican wheelhorse, was reelected governor and the party made gains in the congressional contests. Long, The Civil War Day by Day, p. 582.
Captain Mitchell and Dr. Ragan had served with J.F.C. on Colonel Harrison's staff. General Ward was brevetted major general to rank from Feb. 24, 1865, and Colonel Harrison a brigadier general to rank from Jan. 23, 1865. Compiled Service Records of Union Soldiers, NA.
General Ward and Colonel Harrison having received leaves to return respectively to Kentucky and Indiana to campaign for the Lincoln-Johnson ticket, Col. Daniel Dustin of the 105th Illinois, as senior officer, had assumed command of the Third Division, XX Corps, and Col. Franklin C. Smith of the 102d Illinois, as senior regimental commander, had taken command of the 1st Brigade. O. R., Ser. I, Vol. XXXIX, pt. I, p. 679.
William B. Fyfe, a 39-year-old lawyer, was mustered into service on Sept. 8, 1862, as a private in Company G, 129th Illinois Infantry. Private Fyfe served with the regiment throughout the war, and was mustered out near Washington, D.C., on June 8, 1865. Compiled Service Records of Union Soldiers, NA. Samuel Maxwell of Pontiac was elected treasurer of Livingston County in November 1860. An influential and popular politician, he moved to Missouri in 1866. History of Livingston County, p. 266.
Joseph B. Connelly, a 36-year-old farmer, had been mustered into service on Sept. 8, 1862, as a private in Company A, 129th Illinois Infantry. Private Connelly had been detailed as an orderly with the First Division, XI Corps, on Jan. 14, 1864. When the XX Corps was constituted, Private Connelly was re-assigned as orderly with the 1st Brigade, Third Division, XX Corps. Compiled Service Records of Union Soldiers, NA.