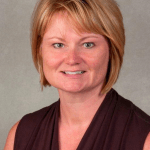 Please welcome Darlene Kaskie, our first Regional Medical Library (RML) librarian to join the team. Darlene will be serving as the Technology and Communications Librarian for the National Network of Libraries of Medicine (NN/LM) Greater Midwest Region (GMR) program office.
In her new role, Darlene will be managing the GMR website and social media, and handling communication for members in the ten state region. Darlene will be permanently located in the GMR offices, for which construction is still underway. Until that time, Darlene is in a temporary location at Hardin Library.
Previously, Darlene served as the Student Computer Services Librarian for the Law Library at the University of Iowa. In this role, Darlene assisted with technology and network services and served as the editor for the Law Library's website.  Darlene also worked as a temporary  librarian for the University of Iowa Engineering Library, helping with marketing and educational outreach using social media.
Darlene received her MLS from Indiana University, Bloomington. Prior to joining the University of Iowa, Darlene worked as a managing research librarian for the law firms of Latham & Watkins in Chicago, McCutchen, Doyle Brown & Enersen (now known as Bingham McCutchen) in Los Angeles, and Beveridge & Diamond in San Francisco.  Darlene researched corporate healthcare client information as a law firm librarian.  Darlene is looking forward to discovering healthcare from the academic perspective in her new position. 
Darlene's husband teaches health policy for the College of Public Health, and their two daughters keep them busy with soccer, volleyball, and all things tween.