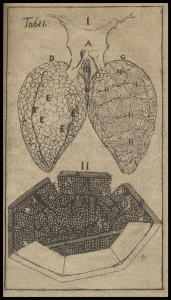 MARCELLO MALPIGHI (1628-1694). De pulmonibus observationes anatomicae. In Thomas Bartholin's De pulmonum substantia & motu diatribe, Copenhagen, 1663
Anatomist, embryologist, physiologist, and microscopist, Malpighi was instrumental in the development of embryology and histology and also a great microscopic anatomist.
Malpighi made many scientific contributions, but many  consider his discovery of the pulmonary circulation the most important.
De pulmonibus observationes anatomicae was initially written in the form of two letters to Borelli at Pisa.  Malpighi described his microscopic studies of the lung of a living frog. Malpighi showed that the lungs were vesicular in nature and described how the branches of the trachea terminate in the alveoli.
In the final letter, he presented his description of the capillaries which he observed linking the arterial and the venous circulation. In so doing, he provided the final proof of the validity of Harvey's theories on the circulation of the blood.
You may view this work in the John Martin Rare Book Room, Hardin Library for the Health Sciences. Make a gift to the Hardin Library for the Health Sciences by donating online or setting up a recurring gift with The University of Iowa Foundation.