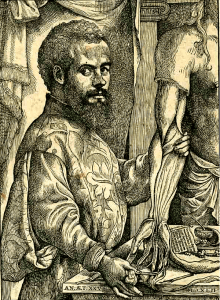 The University of Iowa History of Medicine Society, The Classics Department, and the Center for the Book invite you to a lecture by Daniel Garrison, Emeritus Professor, Department of Classics, Northwestern University on "Vesalius Turns the Page on Ancient Medicine."  The lecture is free and open to the public.  The lecture will be held on Thursday,  November 20 from 5:30pm-6:30pm at The Hardin Library for the Health Sciences.
This talk concentrates on the procedural contributions Vesalius made in his 1543 De humani corporis fabrica. Vesalius began his medical studies at the University of Paris, which was still a conservative institution that relied heavily on readings from Galen and later Medieval summaries and required little or no dissection, even of animals. Vesalius introduced a new regimen at the University of Padua that called for  dissection by the students  and visual testing of anatomy rather than dependence upon books.
De humani corporis fabrica is one of the most important anatomy books ever published, and the John Martin Rare Book Room owns a first edition.  You may view this book or others from our collection by visiting the John Martin Rare Book Room.  Some images are also available in the Iowa Digital Library.