2019 was a busy year for the Rita Benton Music Library at the University of Iowa.
Here are a few highlights!
January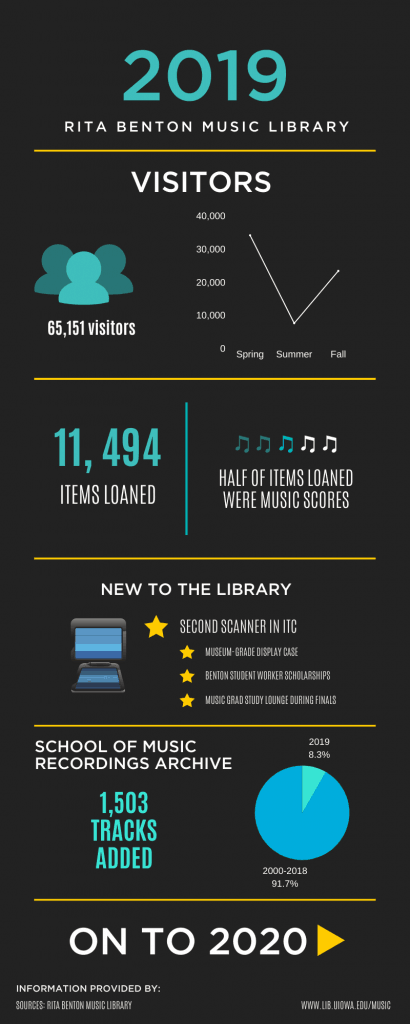 Student from Dr. Suhadolnik's Fall 2018 American Music seminar mounted the exhibit, "Exploring Our Sounds: Traditions of American Music Making at the University of Iowa." The exhibit stayed up through August 2019 and examined curriculums, student musical life, and composers. Learn more >
February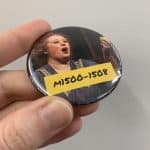 The Library was at the School of Music's Audition Day, connecting with potential students and chatting with current ones. Button making was on the menu again, this time featuring photos of UI students with their instruments or singing in opera or chorus – and of course, imprinted with library call numbers!
March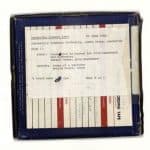 In March, the Library was at the School's Donor Appreciation Concert talking about the School of Music Recordings Archives with alumni and donors. We had old concert and recital programs dating back to the 19th century, as well as demos of the digital archiving of recordings, both audio and video. Learn more >
April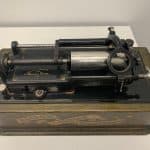 In April, Alan and Ann January donated over 150 wax cylinders and a gramophone player to the Music Library. In May, we found out that 13 of the cylinders were one-0f-a-kind early Czech music recordings made in the United States by jeweler Eduard Jedlička. Learn more >
May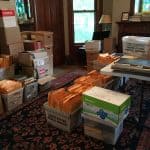 May was momentous, as the Music Library helped local musician and donor Carey Bostian begin the process of transferring the James Dixon Papers to the University's archives. Three van loads later, and the Library's Seminar Room was FULL with the over 2,000 scores and 30 boxes of papers belonging to Dixon and his mentor, Greek conductor Dimitri Mitropoulos. The rest of the summer was spent sorting the score collection in preparation for preservation and exhibition.
June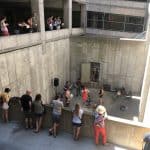 In June, Library Assistant Christine Burke and her ensemble performed one of her compositions in [ramp] fest, a concert sponsored by the UI Stanley Museum of Art in the Tower Parking Garage. Christine's works have been performed this year in Los Angeles, Chicago, Columbus (OH), Pittsburgh, and of course, Iowa City! One of the performers in the ensemble was student worker and Bentz Scholarship winner, Alex Spenceri. Learn more >
July
In July, the Music Library welcomed new School of Music director Tammie Walker to Voxman! Learn more >
August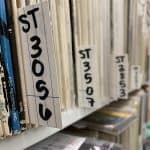 In August, the Music Library moved over 10,000 LPs to the Libraries Annex facility. An additional 2,000+ titles were withdrawn (duplicate with online or CD content). Around 3,000 titles remain in the Music Library; mostly jazz, UI recordings, saxophone literature (supporting the Iowa Saxophone Archive), and other unusual or semi-rare items. Annex LPs are still available to patrons via request in InfoHawk+/Aeon. The relocation of the LPs provided the Music Library with much needed processing and storage space.
September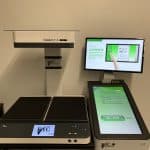 In honor of his receiving two awards from area organizations this fall, the Music Library mounted an exhibit of materials about world-renowned bass-baritone and Iowa graduate, Simon Estes. Dr. Amy McBeth curated the display which reviewed his time as a student, his exceptional career, and his philanthropic work.
The Libraries installed a second overhead scanner, this time in the adjacent ITC. Now students can scan materials when the Library is closed, but the ITC is open. This purchase was suggested by Library Assistant Amy McBeth and supported by Library Administration.
October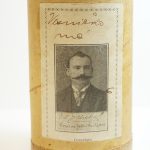 The Music Library took 16 brown wax cylinders to the Media Digitization and Preservation Initiative at Indiana University to be digitized. Two of the cylinders turned out to have been made in Cedar Rapids, Iowa. Librarian Katie Buehner and Czech audio archivist Filip Šír will present about the cylinders at the 2020 International Association of Music Libraries, Archives, and Documentation Centres (IAML) meeting in Prague. More news about the Jedlička Czech cylinders will be forthcoming in 2020.
November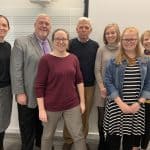 The inaugural Benton Student Worker Scholarships were awarded to senior public policy major Olivia Waller and junior music major Anastasia Scholze. These two scholarships were made possible by generous donations from Raymond and Daniel Benton.
A new exhibit case arrived at the Music Library that will be used to display items from the Canter Rare Book Room. Thanks to Daniel Benton and Library Administration for supporting this purchase.
The Music Library was on hand with a pop-up library to accompany a performance by pianist Sarah Cahill of her show "The Future is Female." Scores by the performed composers were available for check out, and the button maker was busy (again) creating buttons featuring the composers.
Music Librarian Katie Buehner traveled to New York to deliver items from the James Dixon papers for use in the NY Philharmonic Archives exhibit, "Dimitri Mitropoulos' Music Library," in Lincoln Center's Bruno Walter Gallery. The exhibit is open through February 1, 2020. Learn more >
December
Every semester, the UI Catering hosts "Lunch with the Chefs," which is a "pop-up lunch" based around a theme. This fall's theme, "The Beatles – Come Together!" was a perfect match for the Music Library's collections. Working with UI Special Collections, the RBML created a pop-up exhibit of vinyl records, books, and other materials drawn from Donna Parsons' excellent Beatles collection. The whole exhibit was staged in a fake teenager's room, complete with posters, magazine, bean bag chair, a turntable, and OF COURSE Wulfie Parsons! Learn more >
In response to student feedback, the Music Library utilized the Seminar Room as a Music Graduate Student Lounge during Finals Week. Students (and Wulfie) seemed to enjoy having a space all their own, where they could concentrate and have ready access to caffeine, which means we'll do it again this coming Spring. Learn more>
-Katie Buehner