On November 21, the New York Philharmonic Archives opened a new exhibit about Greek conductor Dimitri Mitropoulos (1896-1960) in the Bruno Walter Gallery at Lincoln Center. The exhibit focuses on Mitropoulos' tenure as music director of the Philharmonic (1949-1958), but also explores major themes of his overall career. Exhibit items include correspondence, photographs, and many scores drawn from the Philharmonic's Archives and the conductor's personal music library, which resides in Iowa City. This significant score library and related documents will soon be added to the collections of the University of Iowa's Rita Benton Music Library; a destination best explained via a generational narrative involving Mitropoulos, Iowa native James Dixon (1929-2007), and UI alumnus Carey Bostian.
Dimitri Mitropoulos: from Greece to New York
Mitropoulos began his musical career in Greece as a concert pianist, composer, and conductor of various conservatory orchestras in Athens. However, it was in the early thirties that Mitropoulos made a splash in Berlin and Paris with Prokofiev's Third Piano Concerto, in which he served as both soloist and conductor, leading the orchestra from the piano. In 1936, he made his American debut with the Boston Symphony Orchestra and in 1938, was named music director of the Minneapolis Symphony (now the Minnesota Symphony). It was during this time that Mitropoulos encountered a young James Dixon, who attended the Symphony's touring performances in Iowa and eventually approached its conductor, seeking guidance. Mitropoulos became a mentor and benefactor for Dixon throughout his formative musical training at the University of Iowa during the 1950s. By this time, Mitropoulos was no longer in the Twin Cities. Many guest conducting appearances with the New York Philharmonic throughout the 1940s led to a co-appointment as music director (along with Leopold Stokowski) in 1949-50, and sole directorship of the ensemble from 1950-1957.
Mitropoulos' Library: from New York to Iowa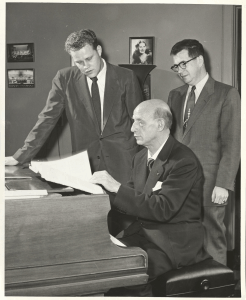 Mitropoulos' time in New York included over 50 world and 30 American premieres, including works by Schoenberg, Milhaud, Sessions, and even University of Iowa composition professor Philip Bezanson. His relationship with the Philharmonic became increasingly strained, and in 1957-58, he shared the directorship with the conductor who would replace him – Leonard Bernstein. In 1960, Mitropoulos died in Milan while conducting a rehearsal of Mahler's Third Symphony at La Scala. James Dixon, who at the time was working at the New England Conservatory, inherited his score library, papers, batons, and many religious icons. When Dixon returned to the University of Iowa in 1962 as a professor, the library came to Iowa City. Over the next thirty-five years the Dixon/Mitropoulos score library grew to include almost 2,000 items, ranging from miniature study scores to full sets of orchestral parts. Much like his mentor, Dixon was a champion of contemporary music throughout his career, both in his programming for the UI Symphony Orchestra and collaborations with the UI's Center for New Music. The library contains many unusual or rare editions of works, many sent to the two conductors by publishers and composers hoping for a premiere performance. Of equal value are the conductor's markings to be found in many of the scores, especially from premieres, where the conductors worked with composers to fine-tune the work before it was heard in public or sent to press. Mitropoulos was renowned for his phenomenal memory and ability to conduct without the score, both in rehearsal and performance. Markings in his scores reveal clues to his memorization techniques, including numbering maps that allowed him to recollect rehearsal numbers.
The Dixon/Mitropoulos Library: from private collection to public archive and exhibition
Following Dixon's death in 2007, the library was inherited by Dr. Carey H. Bostian II, a cellist and conductor who was one of Dixon's last students at the UI. Bostian worked to organize the collection and created an inventory and became yet another contributor to its content. Four years later, the New York Philharmonic launched the Leon Levy Digital Archives, which now includes over 3000 digitized scores, 36,000 orchestral parts, 14,000 programs, and over 50,000 images and photographs. Included in the Archives is Mitropoulos' score of Mahler's Sixth Symphony (which the conductor premiered in the United States with the Philharmonic in 1947), loaned to the Philharmonic by Dr. Bostian for digitization. This single score loan led to a collaboration between Bostian, the Philharmonic Archives, and the Rita Benton Music Library (e.g., the Mitropoulos exhibit in Lincoln Center).
In July 2019, Bostian began the process of donating James Dixon's papers to the Rita Benton Music Library at the University of Iowa, which include the Mitropoulos music library. The Philharmonic's Director of Archives and Exhibitions Gabryel Smith visited the collection in August, both to review items for exhibition, but also to discuss digitization of Mitropoulos's marked scores for inclusion in the Leon Levy Digital Archives. This partnership will allow seamless access to the scores within a robust digital archive of orchestral music and performance data, allowing researchers to explore Mitropoulos' career and musicianship more fully.
There will be more news about the James Dixon Papers in future months, but for those interested in exploring Mitropoulos' library now, a marvelous sneak peek (thanks to archivists Sarah Palmero and Gabe Smith) is available at Lincoln Center for your consideration. Here in Iowa City, the Music Library will continue to unpack and prepare this large and fascinating collection for processing.
---
Visit the Exhibit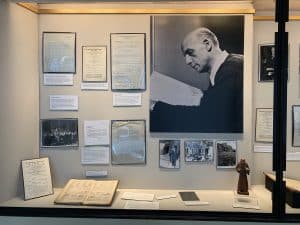 Dimitri Mitropoulos' Music Library
Curated by Sarah Palmero (Assistant Archivist) and Gabryel Smith (Director, Archives and Exhibitions), New York Philharmonic Archives
Bruno Walter Gallery | David Geffen Hall
Lincoln Center, New York City
Open through February 1, 2019
Explore the New York Philharmonic's Leon Levy Digital Archives
Read about Dimitri Mitropoulos and James Dixon