Honoring the past
On Wednesday evening, the University of Iowa Symphony Orchestra and Choirs will perform Gustav Mahler's Symphony No. 2 in C minor-E flat major, "Resurrection", marking the first School of Music ensemble performance in the new Hancher Auditorium.
The selection of this work is a powerful reminiscence for many, as it was performed during the opening weekend of the old Auditorium in 1972 under the direction of James Dixon (UI Symphony Orchestra Director, 1962-1997).
For that performance, the Orchestra was 141 players strong and included many faculty players: Bill Hibbard, viola; Eldon Obrecht, bass; Tom Ayres, clarinet; Ronald Tyree, bassoon; Paul Anderson, horn; Delbert Disselhorst, organ. Kathryn Harvey (soprano) and Janice Roché (mezzo-soprano) were the vocal soloists and the choirs totaled 197 singers. All in all, that placed over 325 performers on stage.
There were two other works performed on the concert; Brahms's Academic Festival Overture and a world premiere work by Charles Wuorinen, Grand Bamboula for String Orchestra.
Listen to the 1972 recording of Mahler's Second Symphony
  1. Allegro maestoso. Mit durchaus ernstem und feierlichem Ausdruck
  2. Andante moderato. Sehr gemächlich. Nie eilen.
  3. In ruhig fließender Bewegung; 4. Urlicht; 5. Im Tempo des Scherzos
A 'new beginning'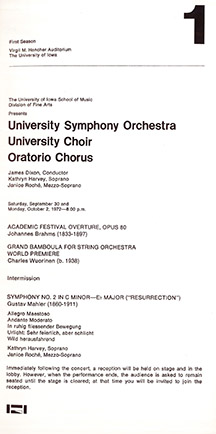 The Daily Iowan reported that, "Thunderous applause greeted Dixon at the finish of the first piece, and the new world premiere of the Grand Bamboula presented a haunting, mystical, and unique element to the concert. But nothing could surpass the excitement and magnificence of Dixon's conduction of the symphony by Gustav Mahler. It was truly one of the most incredible moments of music in the history of the University of Iowa…bravos and cheers filled the auditorium at the closing bars…as Dixon reappeared on stage, the audience gave him a 10 minute standing ovation."
This was not the first time Mahler's Second Symphony was performed at the University. In 1942, Philip Greeley Clapp (School of Music Director, 1919-1953) led the University Orchestra and Choirs in the work. The 1972 program book reprinted a segment of Dr. Clapp's program notes for this concert, which were then augmented by student David Lasocki.
"It was a great moment in the lives of the 2,680 audience members – being part of the opening of Hancher Auditorium. The brilliance and magnificence of the evening of September 30, 1972, will make the future years of culture in Iowa more memorable, more meaningful, and historically significant as a 'new beginning' for the arts of the midwest," concluded The Daily Iowan. Now in 2016, 1,800 audience members will have the opportunity to relive that historical moment while creating one of their own on September 28th.