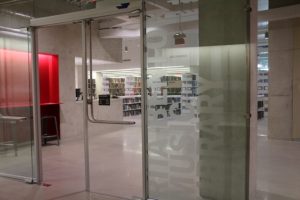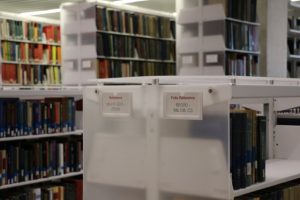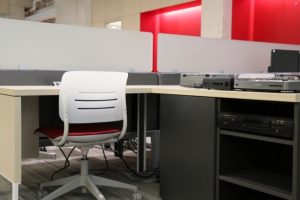 Eight years after the 1,000 year flood, the Rita Benton Music Library has moved from its temporary home on the second floor of the Main Library into the new Voxman Music Building. The Library is located on the first floor near the Clinton St. entrance and occupies about 10,000 square feet.
What's New
Compact Shelving
Books, Bound Journals, non-folio Scores, Miniature Scores, and Theses and Dissertations are in a 22 aisle compact shelving bay against the west wall. The shelves are electronically wired to move at the push of a button. If you have questions about how to use the compact shelving, library staff will be happy to provide a quick demonstration.
Eble Seminar Room
The Music Library is now home to a 16 seat classroom that will be used for academic classes, library workshops, and that will be made available for students to use for group study. The room is named for Charles Eble, longtime owner and proprietor of sheet music shop Eble Music in Iowa City.
School of Music Recording Archive
The Music Library is in the process of ingesting the School of Music Recording Archive into its collections. The long term goal is to digitize all reel-to-reel and DAT tapes contained in the Archive and to make them available to faculty, students and staff at the University.
New Scanner – coming soon!
One great perk of being in the Main Library was having access to their top-notch scanners. We do have a flatbed scanner right now, but will be adding an overhead scanner, like those at the Main Library, sometime during the Fall semester.
Interlibrary Loan and Document Delivery
If you would like to check out ILL requests from the Music Library, you will need to change your desired Pick-Up Location in your ILL account. Log into ILL and you can change your account information in the left-hand menu. If you do change the location, expect each delivery to take more time; usually at least a day.
The Canter Rare Book Room
Our marvelous rare collection now resides in a space named for longtime Iowa arts patrons Arthur and Miriam Canter. If you would like to view an item from the rare collection, please ask for staff assistance at the Service Desk. Items may now be viewed on any day that the Music Library is open EXCEPT for Saturday.
Windows and sculptures
The Music Library has large windows facing south and west that let in stunning natural light and give the space an open and inviting atmosphere. The south window stretches a full two stories, and hanging from the ceiling is a Chihuly glass sculpture, which was purchased with funds set aside by the State of Iowa for the installation of art in all state buildings.
What's the Same
Hours
The Music Library's hours are still Monday-Thursday, 8am-9pm; Friday, 8am-5pm; Saturday, 12pm-5pm; Sunday, 12pm-9pm.
Great Service
Our three full-time staff members – Amy McBeth, Megan Small, and librarian Katie Buehner – are all here to help you find with your research and answer your questions about how the Library works. If you have a question or concern, please ask!
Great Collections
In eight years, the Music Library's collection has seen significant growth so that it now contains over 205,000 items, over 90,000 of which are scores. If there's something you think the Library should add to its collection, please contact Music Librarian Katie Buehner <katie-buehner@uiowa.edu> with your recommendation.
Our Name
The Rita Benton Music Library retains its name, which was put in place in 1980 following the death of Iowa's first music librarian, Dr. Rita Benton. Our two long window seat benches are also named in her honor, thanks to support from her family.
Be sure to stop in, take a look, check something out, and say hello!