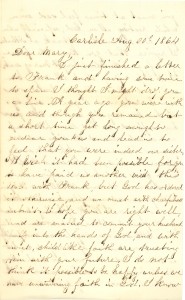 Carlisle Aug 20th 1864
Dear Mary,
I just finished a letter to Frank and having some time to spare I thought I might drop you a line. A year ago you were with us and though you remained but a short time yet long enough to endear you to us and lead us to feel that you were indeed our sister. I wish it had been possible for you to have paid us another visit this Fall with Frank, but God has ordered it otherwise and we must with cheerfulness submit. I hope you are right well and are enabled to commit your husband fully into the hands of God, and with sweet, childlike faith are trusting Him with your future. I do not think it possible to be happy unless we have unwavering faith in God. I know you must at times feel sad even while resting all on God, especially when you hear of another attack at Atlanta. I rejoice that you know the place of refuge, "the blood bought mercy seat", I do hope & pray that all may be well and that all your loved ones may be returned to you in safety.
It has been very dry and our little graves have suffered, we had them filled up and sodded around the sides and planted flowers on the top but every flower had died, we also sowed the lot with grass seed but not a spire came up. As soon as it rains I will sow it again with grass seed and plant a rose bush on each grave. I think of having it enclosed for the present with a neat wooden railing. Our little ones are angels now and possibly are sent on Missions of Mercy to us, let us thank God that we have such strong ties to bind us to our home above and strive to be ever ready to join them there.
I think you need not build on a visit from Mother and Hanna this Fall, it was simply talk. If the war is successfully closed which I hope it soon may be, we hope to pay you a visit, but when we will have to leave to be decided in the future. Jennie is right well and will finish this letter. Marvin has two teeth and two more will soon be through, with the exception of fretfulness caused by this he is right well. My health is very good. We expect to open School on the 1st of September if the Rebels do not pay us another visit. Now sister be as happy as you can, dont afflict yourself with what may possibly happen in the future, but thank God for the past and take courage. May the peace of God fill your Soul,
Your Brother
Harry. C.C.