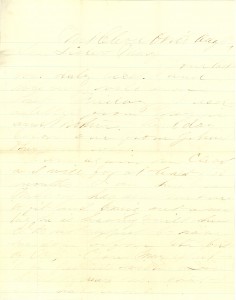 [West?] Clevd Ohio Aug 4th 64
Dear Sister Mary
Your last was duly recd. and was very welcom Last Friday I recd. a letter from [name?] and Mother. And day before one from John They were well.
I am again in Clevd and will for at least [two?] months I am here because Mr [Snow?] has [sent me here?] to get and bring out a new [tug?] he is having built [here?] I do not expect to have her done before the [first?] of Oct. You may expect to be pestered with more letters [illegible] us. that I [illegible] in on them.
[illegible]
Bro Murphy
West Clevd Ohio
No 62 Clinton St