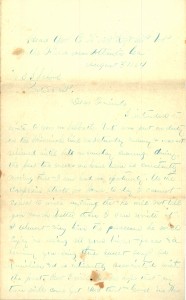 Head Qur. Co "A" 129th Regt Ills Vols
In the Field Near Atlanta Ga
August 3″ 1864
M.E. S. School
Pontiac Ill.
Dear Friends
I intended to write to you on Sabbath but was put on duty in the skirmish line on saturday Evening & was not relieved until late on Sunday Evening. during the past two weeks we have been so constantly moving that I have had no oportunity. As the chaplain starts for Home to-day I cannot Expect to write anything that he will not tell you much better than I can write it. I almost Envy him the pleasure he will Enjoy in seeing all your bright faces and hearing you sing those sweet songs so familiar and so intimately associated with the past. But I will live in hope that my turn will come yet And that God in His Infinite Mercy will grant me the privelege of Uniting my voice with yours in songs of praise to His most Excellent name. I have been blessed all these long weary months with Excellent health and amid all the dangers of the way through which I have been led I have Escaped unharmed. I have often thought that it was in Answer to the prayers of many kind friends that God has been so abundant in blessings to me. Our Countrys Cause in this Department is still gradually yet surely prospering. I hope you are all praying most Earnestly for Gods assistance that this war may speedily End and that the cause of Our Father may prosper.
We moved yesterday from one position on the Extreme right of the Army to the centre & we are now occupying trenches within one mile of Atlanta. The sharpshooters of the Enemy have wounded some of the men shooting from the top of the houses in the city. I heard just now that Levi Dell of Co "G" and two others of the Regt whose names I have not learned were wounded just now. The health of the Regt is good. Those of your friends wounded in our late battles are getting along well and we hope for their speedy recovery. I have many things to say to you but I must close for this time. May Our Father in Heaven bless all your Efforts to do good. Strive to please the Savior and he will bless your labor to be good and do good and you will be happy
Your affect. Friend
J.F. Culver