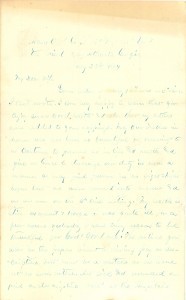 Head Qurs., Co. "A" 129th Regt. Ills. Vols.
In the Field Near Atlanta, Georgia
July 28th 1864
My Dear Wife
Your letter of July 18th was recd. since I last wrote. I am very happy to learn that you enjoy such good health and also that my letters have added to your happiness. May our Father in Heaven, who has been so bountiful in blessings to us, continue to preserve us in life and health and give us Grace to discharge our duty in such a manner as may find favor in his sight.
Night before last we were moved into reserve, and we are now on the 2nd line resting. My health is still excellent, &, though I was quite ill for a few hours yesterday, I have every reason to be thankful for God's Goodness. The notice you saw in the papers about receiving pay on descriptive rolls must be a mistake as we have recd. no such notice. All sick and wounded are paid on descriptive rolls at the Hospitals in Nashville and places North of that, but that is all.
I am glad to learn that Lieut. Smith's health is improving so rapidly; I cannot imagine why he has never written to any of us. I saw Asa Alden yesterday; he is quite well and has escaped unharmed. He is an excellent soldier.
The account I wrote you in my last letter concerning the 20 Ills. is confirmed; only 16 of the men have escaped. The Lt. Col's. Adjt. & 1st Capt., Capt. Charles Paige is reported killed. Lieut. Donaldson of the 52nd Ohio was killed a few days ago and his company captured. I will try and get you a copy of Genl. Thomas' Order which gives the result of the fight for Atlanta. I saw Bro. John two days ago; he was well and says that Bro. Sammy is getting along as well as could be expected.
It was quite wet yesterday afternoon, and the weather is sultry and warm today and looks very much like rain. As we are expecting to draw clothing and I shall be busy, so I hastened to write to you this morning. The health of the Company is good. Green was quite sick for a day or two but is quite well again. The Campaign is still progressing favorably, and we trust in God that it may soon be successfully terminated. Let us continue to pray in Faith.
God is dealing very kindly with me, and my heart rejoices this morning in his presence. Who can tell the wonderful precious Love of Jesus? Though I have been most unworthy, yet am I not forsaken. May the richest of Heaven's blessings rest upon you. I have prayed that God would increase your Faith and fill you with His Love. Trust all to Him for He will never leave nor forsake you. You speak in your letter of the happiness you anticipate when, the war being successfully terminated, we may again enjoy the pleasures and privileges of Home. Let us hope that God in his good Providence may grant us that great blessing, but above all let us pray for Grace to be resigned to His will knowing that "He doeth all things well."
Allen Fellows just came to my tent and has just returned. He looks badly, and his health is not good. I wish he had remained in Chattanooga, for, should the Campaign be lengthened beyond Atlanta, his health is not sufficient for the task. He had a letter from home of date the 18th, the same date of my last. We expect a mail to-day.
There has been but little fighting on our front for the last few days. We may have a severe battle before we get possession of Atlanta, and we may get it without much effort. None but God knows, & we are willing to leave all to him. There appears to be no reason to doubt but that our Army will occupy it very soon, perhaps within a week.
Give my love to Mother & Maggie and remember me kindly to all our friends. May Our Father in Heaven be with you & hasten the day of reunion amid the Peace and prosperity of a happy people and a Country reunited and prosperous. Accept the constant love and affection of
Your Husband
J. F. Culver
P.S. I have tried to get the circular issued by Genl. Thomas, but fear I may not succeed until too late for the mail. The substance is as follows:
Our loss on the 20th was about 1,760 in killed, wounded, and missing, on the 21st, 22nd, & 23rd, about 2,150. Of the Enemy on the 20th, about 6,000; of the enemy on the 21st, 22nd, & 23rd, there was buried about 3,500 beside a large number the Enemy was permitted to bury. The Enemy's loss is estimated at from 15 to 20,000.
Should I get opportunity, I will still copy the circular and forward it.