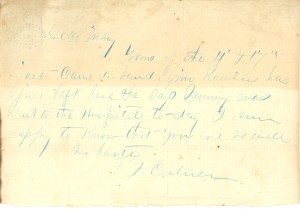 [July 26, 1864]
Dear Mary
Yours of the 4th & 17th just came to hand. Jim Rawlins has just left here, and he says Sammy was sent to the Hospital to-day. I am happy to know that you are so well.
In haste,
J. F. Culver
[The above note probably was transmitted with J.F.C.'s "Names of Killed and Wounded in the 129th Ills. before Atlanta, July 20, 1864," a list of casualties arranged by company with a statistical summary.]
Total
Killed: 12
Wounded:
Officers 3
E. Men 49
Total 52
[At the end of the list, J.F.C. penned this instruction:]
You can lend this to M. E. Collins if he wishes to publish it [in the Pontiac "Sentinel"], but I would like this Copy preserved.
J. F. Culver