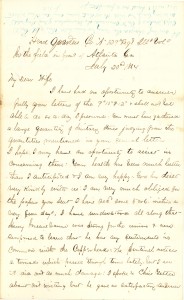 Head Quarters Co. "A" 129th Regt Ills Vols
In The field in front of Atlanta Ga
July 23rd 1864
My dear wife
I have had no oportunity to answer fully your letters of the 9″ 10″ & 12″ & shall not be able to do so to-day I presume. You must have gathered a large quantity of Sanitary Stores judging from the quantities mentioned in your several letters I hope I may have an opportunity to assist in consuming them. Your health has been much better than I anticipated & I am very happy God has dealt very kindly with us: I am very much obliged for the papaers you sent I have recd some 5 or 6 within a very few days. I have understood all along that Henry Greenebaum was strong for the union & am surprised to learn that he has any sentiments in common with the Copperheads. The Sentinel notices a tornado which passed through town lately, but I see it did not do much damage; I spoke to Chris Tetter about not writing but he gave no satisfactory answer I presume it is negligence more than anything else I have no doubt the ride with Maggie to Mr. Russels was very pleasant & wish you could enjoy very many like it. I wrote a short letter and enclosed my Commission. I hope it has reached you: Genl. Ward was not arrested but is Commanding the Division Genl.
Butterfield went East about the 25th of June. You wish to know who of the boys are regular attendants at prayer meeting. Almost all of the company attend Poor Tom Moran is dead. John McDermit is often near where our prayer-meetings are held but never takes part: Because all the questions you have asked have not been answered you must not conclude that you do not receive all of mine: I have but seldom attempted to answer a letter fully during the campaign as my opportunites and time has been very limited: I can see no occasion for any reserve on your part in writing about yourself. I do not think what you have written at all silly & am very happy to hear thus from you: May Our Father in Heaven deal kindly with you I should like very much to have read those letters you thought unfit to send me & tore up: I am still hoping that this Campaign may End & my life and health be spared to get
home by the middle of August though it is scarcely probable just now: The Rebs have had a fine time shelling us this morning & I hope they enjoyed it, as they done us no injury. The fighting along McPhersons line was very severe yesterday. The Enemy made three assaults at the first they succeeded in driving a portion of his line but they soon regained their position. The two other assaults were successfully repulsed. The Enemys loss must have been heavy During the Afternoon a body of Rebel Cavalray turned his left flank and attacked a wagon train in the rear. Genl. McPherson & his staff rode back to see what was the matter and he was killed also several of his staff The Enemy captured a Battery & destroyed a large train Last night just after dark the Enemy got up a great noise & fired heavily on our pickets, but the pickets held their position, & the night passed off quietly. We are strongly entrenched here & the Enemy are welcome to charge if they wish. We can certainly hold ten lines at bay as Easily as we did five in the open field on the 20th. Dinner is ready, two hard tack, coffee & a piece of meat: My dinner was very unceremoniously interrupted by a charge of the Enemy upon our Skirmish line. They drove our line back about 20 rods but the rallying soon regained their line. Thy cut our dinner very short and are now treating us to another sereande of Shell. We have a great deal of Artillery on our line & when they open they generally make the Johnies hush up. It is very pleasant in the trenches to-day. The boys found a large quantities of blackberries in their advance yesterday: I will try and copy you a list of the casualities of the 20th. I had an oportunity to get former lists.
I just now succeeded in getting a bottle filled with ink. I had been begging for a month past as mine was all spilled. This is blue but is better than none. I hear just now that our boys are 200 yds in rear of their line & cannot retake it. The hill on which our pickets were posted gives a fine view of both the enemy line and ours & was very valuable. The enemy can thus cover an advance for over half a mile. We may regain it again and will probably try: All the boys are well. I rec'd notice to-day that my Subscription to the Sentinel has expired. I would like to have the paper continued but cannot send the money now I hear that we have no mail going out to-day & I may write none but for the present. I must close. Let us praise God for all his blessings and trust him for the future. "He doeth all things well" Everything progresses finely thus far in this department May God still be with us and give us victory: Give my love to Mother and Maggie and remember me kindly to all our friends. May the riches of Heavens blessings rest upon you. Pray for Grace and Faith I feel that God has been with me constantly and can safely trust all to His care. May He in his good Providence preserve our lives for the enjoyment of the future in commingling our voices in songs of praise
Good bye
Your affect Husband
J F Culver
P.S. our boys charged the enemy and now hold their old line Capt. Horton of Co. "H" commands the skirmishers of our Brigade He is very brave and will do all that man can do. Christ & Nate are well. Send me a few stamps J.F.C.