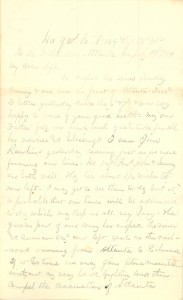 Hd. Qrs. Co. "A" 129th Reg. Ills. Vols.
In the Field Near Atlanta, Ga., July 19th 1864
My Dear Wife
We crossed the river Sunday evening & are now in front of Atlanta.1 I recd. two letters yesterday, dated the 6th & 7th, and was very happy to learn of your good health. May our Father fill our hearts with gratitude for all his mercies and blessings.
I saw Jim Rawlins yesterday evening just as we were forming our lines.2 He says Bros. John & Sammy are both well; they lie about 1-1/2 miles to our left. I may get to see them to-day, but it is probable that our lines will be advanced to-day which may keep us all very busy.3
The greater part of our army has crossed the river and Rumor says our left rests on the railroad running from Atlanta to Richmond.4 If it is true, we may gain Stone Mountain without any very hard fighting, and thus compel the evacuation of Atlanta.
The weather yesterday afternoon & this morning has been quite pleasant, a cool breeze is stirring. We are all well with the exception of a few cases of diarrhea. I recd. a letter from Tom Smith yesterday,5 & he is improving rapidly. I am happy to hear that Lt. Smith is improving. Mrs. Fellows sent Allen two lbs. of tobacco by mail at a cost of only 8 cts. per lb. It is very difficult to get here. If convenient, send me 2 or 3 lbs. of plug tobacco (natural leaf). Fine cut would all dry up before it reached here.
Jesse Massey is at home but will have started for the Company before this reaches you.6 Tell Lt. Smith we have used all his letter paper & envelopes and to bring a large supply with him. If convenient send me by him a tin plate or two, a tin cup, and knife & fork, also a couple of towels.
May God keep you in health and make you happy. Trust all to him; He has kept us thus far & will still be with us. His Grace is all sufficient for us. I will pray for you as I always have done. In all my prayers you have been remembered, and will always be. Let us hope and pray for a speedy reunion. Give my love to all the family. I accept the kisses. Committing all our interests to God, and trusting in our acceptance of Him through Christ, I remain, as ever, in Love,
Your Affect. Husband
J. F. Culver