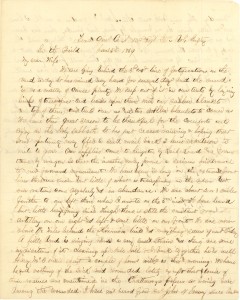 Head Qurs. Co. "A" 129th Regt. Ills. Vol. Infty.
In the Field June 5th 1864
My Dear Wife
We are lying behind the 3rd or 4th line of fortifications in the mud to-day.1 It has rained very hard for several days and the mud is, as a matter of course, plenty. We keep out of it in our tents by laying limbs of trees, first, and leaves upon them, with our rubber blankets on top of them, our tents over us, and two woolen blankets to cover us.
We have thus great reason to be thankful for the comforts we enjoy on this Holy Sabbath. It has just ceased raining, &, hoping that some opportunity may offer to send mail back, I have sat down to write to you.
Our supplies come to Kingston by Rail Road and from there by wagon, so that this weather may prove a serious hindrance to our forward movement. We have been so long on the extreme front lines that we know but little of what is transpiring in the rear, yet our rations come regularly and in abundance.
We are about 2 or 3 miles further to our left than when I wrote on the 3rd inst. We have heard but little heavy firing since, though there is still the constant roar of artillery on our right and left & some little on our front. We are now about 1-1/2 miles behind the skirmish line, and everything seems quiet to-day. A little bird is singing near, a very sweet strain, and there are some indications of its clearing up.
Nate Hill & I bunk to-gether; he is well. Harry McDowell spent a couple of hours with us this morning. We have heard nothing of the sick and wounded lately, except that some of their names are mentioned in the Chatanooga papers as having been among the wounded.
I have not heard from Bros. John or Sammy since last Monday [May 30]. They were both well then. Saml. McGoodin is well.
I have recd. no letter since the one brought by Harry last Sunday [the 29th]. There has been but one mail since. The Leader of the Brig. Band started to Chicago with the body of Dr. Potter this morning. If I had known it, I might possibly have sent a letter with him. If we remain here all day, there will probably be an opportunity to send mail out. I saw John Lee yesterday, he was well.2
I know but little of the progress we are making. Rumor says that our lines on the left are advance[d] to within 4 or 5 miles of Marietta on the Rail Road.3 What the design is I do not know, but we repose confidence in our Leaders and trust all to God.4 Our Campaign thus far has been a complete success. The enemy on retiring have gathered up everything that could be of any use to them, and the entire country through which we pass is almost deserted. We see but few citizens, and prisoners say that all have been conscripted into the Rebel ranks.5 Our Army is full as large to-day as it was when we left Resaca and is rapidly increasing by reinforcements.6 I presume ere this the 100,000 new tendered by the North West are all in the field. Most of them were out the last accounts we had from the North.
We had a Chattanooga paper of the 2d yesterday, but no Northern papers since last Sunday. The latest I have had was the New York Herald of the 23rd May. This state of things will not last long, however.
I have every reason to feel thankful for the kind care "Our Father" has exercised for me. My Faith is still strong as ever in His doing for me all that is necessary for my protection and happiness, and much more than I deserve. If you are in good health, you are doubtless at this hour in the Sanctuary of God hearing his word expounded. My mind reverts to the time when to-gether we listened to the ministrations of the Gospel of Christ, and also to the many times that in much meakness I attempted to expound God's word to the people of Pontiac. I often imagine myself there again and think of much I might have done to bring others to Christ that I neglected. And the dear children of my Sabbath school, many of them have passed from youth to manhood and womanhood and are scattered far and wide. I shall never see all of them again this side of Eternity, but my heart still yearns after them, and I earnestly hope all may be brought into the fold of Christ.
Remember me kindly to all that remain. The many new scholars that have been gathered in will not know me, yet I feel a very warm interest in all of them. Perhaps when the Campaign is over, if God spares my life, I may get to see them. It seems a long time since I was at Home, almost two years, and it will be fully that perhaps before I get there. Do you write to Mother [Culver]? I have not written since we left Wauhatchie and have depended entirely upon your keeping her informed of my whereabouts. My health continues to be very good, and for which I try to be very thankful.
May the riches of God's Grace ever [be] upon our hearts. Let us strive to live aright that we may be acceptable in Our Father's sight. He will care for us and protect us, and under whatever circumstances we may be placed still be assured that "He doeth all things well." If in your power, render Mrs. Burns [Byrne] & others, the wives of the men of my Company, some assistance.7 Do not let them suffer. If we had been paid off before the Campaign opened, they would have plenty; as it is, do what can be done for them. Give my love to Mother and Maggie and Remember me kindly to all. May Holy Angels guard thee.
Your Affect. Husband
J. F. Culver