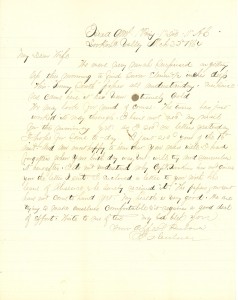 Head Qurs., 1st Brig., 1st Div., 11th A.C.
Lookout Valley, Mch. 22nd 1864
My Dear Wife
We were very much surprised on getting up this morning to find snow eleven & 1/2 inches deep. This "Sunny South" passes all understanding; ever since we came here it has been extremely cold.1 We may look for mud of course. The train has just worked its way through.
I have not recd. my mail for this morning yet. As I recd. no letters yesterday I hope for some to-day. I just recd. yours of the 16th inst., and am most happy to hear that you were well.2 I had forgotten when your birth day was, but will try and remember it hereafter.3
I do not understand why Capt. Hoskins has not given you the letter I sent. I enclosed a letter to you with his leave of Absence, & he surely received it. The papers you sent have not come to hand yet. My health is very good. We are trying to make ourselves comfortable & it requires a good deal of effort.4 Write to me often. May God bless you.
Your Affect. Husband
J. F. Culver