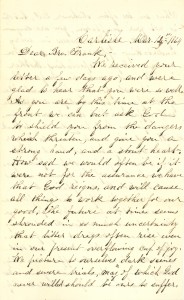 Carlisle Mar. 12th 1864
Dear Bro. Frank,-
We received your letter a few days ago, and were glad to hear that you were so well. As you are by this time at the front we can but ask God to shield you from the dangers which threaten, and give you a strong hand, and a stout heart. How sad we would often be if it were not for assurance we have that God reigns, and will cause all things to work together for our good. The future at times seems shrouded in so much uncertainty that bitter dregs often rise even in our present overflowing cup of joy. We picture to ourselves dark scenes and severe trials, many of which God never willed should be ours to suffer.
Thus we too often dishonor God, but this is not your temptation, you are sanguine life looks bright, success in every undertaking appears certain. may you realize all your expectations. Mother is well and would be comfortable were it not for busy bodies out side of the family who are disposed to meddle with affairs which do not concern them. Some persons had persuaded her to break the will, and she was to have consulted a lawyer last Tuesday but we heard of it in time to put a stop to proceedings. I went to one of her prominent advisers and stated the case plainly to him and urged him if he had any influence to exert it, to put a stop to proceedings. He went out to mother the next morning and persuaded Mother not to go further. Wes also went to John Miller and told him the direction that affairs were taking. Every thing appears quiet again unless other busybodies interfere. Mother is too easily influenced. Gushie Pague & Charlie will farm the lots out home this year. Gushie is to plant them and Charlie keep them in order at odd times. Charlie still attends to his college duties. Hanna is well and likes the school very much.
The East Baltimore Conference held its Session on the 2nd, Mr Sherlock who graduated in the class of 1852 has been sent to the Old Church. Mr. Bowman of the class of 1855 is our pastor. Mr. Bowman preached yesterday we were much pleased with him. He seems more like a Methodist preacher than any we have had since I have been connected with the College. I presume you know both of them. Mother received a letter from Mary a day or two ago stating she had received her box. We received a letter from Mary about two weeks ago with three Photographs of herself & Frankie. Jennie and the boy are well and send much love perhaps Jennie will write some. God bless & keep thee.
Your Brother
H.C. Cheston