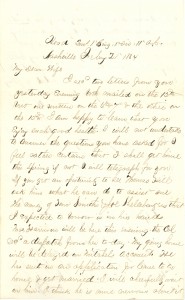 Head Qrs., 1st Brig., 1st Div., 11th A. C.
Nashville, Febry. 21st 1864
My Dear Wife
I recd. two letters from you yesterday evening, both mailed on the 12th, but one written on the 6th & 7th & the other on the 12th.1 I am happy to learn that you enjoy such good health. I will not undertake to answer the questions you have asked, for I feel rather certain that I shall get home this Spring. If not, I will telegraph for you.
If you get an opportunity to see Thomas Hill, ask him what he can do to assist me.2 The money of Tom Smith's & Joe Shellebarger's that I expected to borrow is in his hands.3
Mrs. Harrison will be here this evening; the Col. recd. a dispatch from her to-day. My going home will be delayed on Mitchel's account.4 He has sent in an application for leave to go home & get married. I will cheerfully wait on him. I think he is more nervous about it than I was. He will probably bring his bride here.
I was at church to-day & heard a very good sermon. It was late when we got back, & now it is mail time & my letter very brief. I have been almost tempted to telegraph for you & give up the idea of getting home. I am afraid by the time Jim returns, which will be full one month, we will have marching orders. If I succeed in being sent for the instruments, it will not interfere with my getting a leave of absence next fall, but to get a leave of absence now would prevent it.
If I do not get home, I will write in full about the matters of which you write. Hoskins will be home next week; I will send by him. He is ordered to Chicago to appear against C. J. Beattie.5
You want me to tell you the next prettiest name to Mary. For dark eyes & dark hair, brunnette, I like Ellen, & for light hair & complexion, Jennie.6 Give my love to all. I must close. I hope to get home. May God bless you.
Your Affect. Husband
J. F. Culver