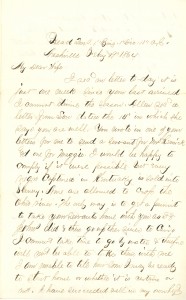 Head Qrs., 1st Brig., 1st Div., 11th A.C.
Nashville Febry. 19th 1864
My Dear Wife
I recd. no letter to-day; it is just one week since your last arrived. I cannot divine the reason. [Pvt. Joseph] Allen recd. a letter from Lou, dated the 14th, in which she says you are well.1
You wrote in one of your letters for me to send a [black] servant for Mrs. Remick and one for Maggie [Utley]. I would be happy to comply if it were possible, but every negro captured in Kentucky is sold into Slavery.2 None are allowed to cross the Ohio River. The only way is to get a permit to take your servants home with you, as Dr. Johns did, & then go up the river to Cairo.3 I cannot take time to go by water, & therefore will not be able to take them with me.
I am unable to tell how soon I may be ready to start home, or whether it is certain or not. I have succeeded well in my own Regt., but some of the others are slow.4
My health is good. If I could only hear from you, but I feel fearful that your health may not be good. I have recd. no letter from any source since I last wrote. I wrote to Bro. Charlie [Culver], Johnie [Murphy], & Scott McDowell last night. I have not been able to sleep for the cold for several nights.5 Mrs. Harrison will be here to-morrow. How I wish you were here, but wishing is in vain. Give my love to Mother & Maggie. May God bless & keep you. Good night.