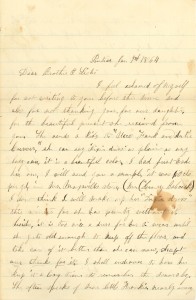 Pontiac Jan 1st 1864
Dear Brother & Sister
I feel ashamed of myself for not writing to you before this time, and also for not thanking you, for our daughter, for the beautiful present she received from you. She sends a kiss to "Ucco Frank and Autie Cuvver" she can say "Dixie dress" as plain as any baby can, it is a beautiful color. I had just made her one, I will send you a sample, it was 60 cts per yd. in Mr. Maxwells store, (Mr. (Henry Babcocks) I dont think I will make up her "Dixie dress" this winter for she has plenty without it, besides, it is too nice a dress for her to wear until she gets old enough to keep off the floor, and take care of it better than she can now. Accept our thanks for it. I shall endeavor to have her keep it a long time to remember the donors by. She often speaks of Dear little Frankie, nearly every day she says something about him, one day when she was playing and talking to herself she said "Poor Frankie dead – Frankie gone – heaven – sky – moon – God – is." Albert makes me think so much of the time when he was here last winter. Albert has the whooping-cough now, has had it about five weeks, he does not cough as hard as Mary did I am in hopes he has the worst over, although I presume he will cough some all winter.
I am my own "[Briget?]" now, and have been for about six weeks, and will be for the next six months and longer if it is a possible thing. Oh! it is so much pleasenter to be alone with my Husband and Babies, besides I feel that I ought to be as economical these hard times as possible, Nancy charged us $1,50 per week, that was a little too much to give for our family.
We are having extremely cold weather now, and have had for a fortnight some of the time we didnt pretend to do anything except to get something to eat and keep warm; last week we had two of the coldest days I ever knew, There was a great deal of suffering in Chicago and on the railroads. We have good sleighing but it is a little too cold to enjoy it much. Mollie do you remember last Christmas eve and day? I mean the last you spent here, you have been in my mind many times during the last three weeks. I had a new dress, (when I cut it I will send you a sample) and a new cloak black cloth cut circular trimed with silk up the front I am going to have a new bonnet I dont know what it will be, whatever L. may choose, the other articles are of his choosing, this dont look much like being economical but I really needed a cloak and bonnet and when I save I dont have such a guilty conscience when I spend only the day before yesterday I sent 4 lbs. of butter to town and got a gal. of Kerosine at 75 cts, and a whole 25 cts over, Old "Flora cow" gives about [2?] qts in a day, while Nancy was here, we made only enough butter for ourselves, since I attend to the milk myself I have had plenty to eat and cook with and packed nearly 15 lbs besides so you see it is not in her wages alone that I am saving but in board and almost every thing I wish you could have a cake of my nice frozen milk that so many are so glad to get in town.
Leander is in town today he is improving the sleighing in breaking colts, he commenced a letter to Frank awhile ago and I am sure I could not tell you whether it is finished or not.
I have not much news to write as I am not in town very often, Mrs. Fellows is in Mr. Dye's I went to call on her, but she had just gone to visit Mrs. Joe Dehner who has a young son 4 weeks old.
I hope to hear from one or both of you very soon I must close for mother wants me to write for her Accept much love My Dear Brother & sister
from your Aff Sister
Maggie A Utley
P.S. Frank did you ever get the package that I sent you out of your secratary. I am anxious to know. I mailed it the next day after receiving your letter