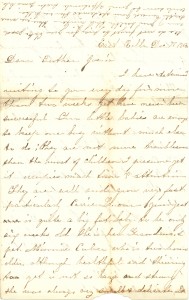 East Villa Dec 7th 1863
Dear Brother Joe!
I have determined writing to you every day for more than two weeks yet have never been successful Two little babies are enough to keep one busy without much else to do; they are not more troublesome than the most of children I presume yet it occupies much time & attention They are well and grow very fast particularly Carrie L. our youngest is quite a big fat baby to be only six weeks old She is her Grandma's pet. Minnie Culver who is two hours older although healthful and thriving [?] yet is not so large and strong she was always very small & delicate to fac similie of her Papa We recieved your letter on Tuesday of last week and was glad to hear from you and of your good health We feel so anxious on account of you being so much afflicted with Rheumatism It is very cold here and there are several inches of snow on the ground Wes has gone to the army in Va We have had one letter since he left he was in the 56th Pa Vol camp near Brooks Station 2nd Brig 1st Div. 1st Corpse. Washington care, Col. Meredith. I send you his address perhaps you may want to write to him His foot was not well when he left and we felt anxious for fear he could not get along Poor Wes! his is a hard lot I pity him and who is to blame? I see by Charlie's letter he wrote to put in here that he too wants to leave home Mother says I shall tell you not to encourage him He has a good chance now to obtain an education but does not rightly appreciate it If you write to him encourage him to stay home & study for father will not send him to college unless he shows more inclination to be studious He and McGregor are intimate, we all think a great deal of him Harry gets along very well with his department. He has some bad boys to govern who give him much trouble, yet this is found not only in his department but to a great degree in College this year, several have been sent away for wickedness I wrote to Mary about a month ago She has not replied yet perhaps is kept busy with her boy who she says is quite a paragon of excellence. Anna Frug has left school and gone home she got tired going Sist. Lizzie's health is not at all good She had one very severe attack in the fall and Amia thinks she may take another as she was not at all well yesterday Millers have all recovered again Kate was up two weeks ago today Sis & family are well maybe I can tell you something new about her the next time I write Joe Saxton now Joe Deering & her sist. Mary were up here last week Joe has a young son just three months old she looks well Mary still has a cough and looks thin Old Mr Breneman was burried today Mrs Postlewaite died very suddenly in Newville where she was visiting two weeks ago and was brought home & burried There has also been a number of soldiers young men from Carlisle brought home dead Han has got a situation as teacher in Harrisburg She will go or expects to go after the subsiding of Small-pox which is raging there now We will remain here untill Spring and maybe longer if Hanna goes away for mother dont want to be left alone here she says it is too lonely both she & father are very well this winter They were up to see aunt Ann on Friday she & her old man are getting along as usual Now dear brother I believe I have given you the principal news Harry mine says he will write if he can and enclose if he is kept busy with his school (excuse the blots my pen dropped out of the case). All join in sending much love and hope you [?] soon & often
We do not forget to pray for you Take good care of your health this winter there are more deaths caused from epedemics than are killed write soon to
your affectionate sister
Jennie C.C.