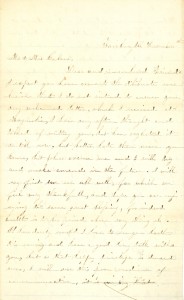 Fairbury Ill December [?]
Mr & Mrs Culver,
Dear and remembered Friend's I expect you have come to the diliberate conclusion that I do not intend to answer your very welcomed letter, which I received at Magnolia, I have very often thought and talked of writing you, but have neglected it untill now, but better late than never you know, but pleas excuse me and I will try and make amends in the future. I will say first we are all well, for which we feel very thankfull, and hope you are enjoying the same great blessing, for indeed health is to be praised above evry thing els.
Oh! how dearly would I love to see you booth this evening and have a good long talk with you, but as that happy privilege is denied me, I will use this poor medium of communication. I have grown so negligent and careless about writing letters, that it is indeed quite a task for me to do it, since other things have come for me to attend to, Can it be true indeed, that little Frankie has left you? oh! I sympathize with you greatly, for indeed it must be almost more than you can bare, but God knows best, and in takeing the little darling from you, he means to draw you closer to him, it is hard to give them up, I know it must be although we have never had the trial, but as I often sit with little Jessie on my lap and watch her as day by day she grows more interesting, for a moment I think it would be wicked to have her taken from us, then I stop in amazement to think I would be so wicked as to let such a thought enter my head, for when they go now we have a happy thought to console us, that they are free from the abusements of this troublesome world, may the good Lord give you grace to bare up under this great trial is the prayer of your sincere Friend. Our little Jessie is prized by us highly, she is nearly nine months old, she sits alone and gets up by chairs, and will soon walk, and we think about the nicest baby that is, but enough of the baby. Ma is living with us know, they have moved over with us, Pa is going to stay on the farm this winter and is coming in the Spring, your friends are all well as far as heard from. Mr Russell was up all last week, and is just as big a mischief as ever, the girls, Lizzie & Laura are comming home to spend the Holawdays, I would love so much to spend them with you, but that I know cannot be one thing we will hope, that long before another rolls around, that peace and quiet may be restoard, and all of us be enjoying the pleasures of home, wont that be appricated more than ever, by those that live to get home but oh! how many lonley hearts will forever be sad, at the thought of so many loved ones who lie away from home, that they can't even have the pleasure of visiting there lonley graves, may God strengthen the hearts of the bereaved, & give them grace to overcome all
Mr Ladd's were up last week, they were quite well, I havent been to Pontiac for an age almost, and therefore dont know bunch about it, only that they all keep well, Scott is about the same old fellow as well as [Tristie?] so you may boath know that we dont change much, but I must hasten, and now my dear Friends before I close, let us make a bargin, it is too bad that not a letter has passed between us, and nerely too long years since you went away, we will promis to write you often if you will answer; why should we live so negligent when we could do better, let us try. but this is hardly worth sending and I am almost ashamed to do it, for mistakes are more than any thing els, but excuse them if you please, for Jessie is with me nerely all the time.
[Mea?] & Scott joins me in sending much love to you both, answer soon very soon I will be happy to hear from you. Good by
Dont forget to answer soon, very soon
Ever your true friend
S E McDowell