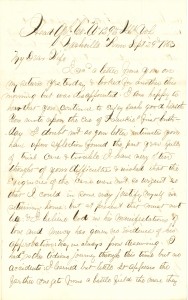 Head Qrs. Co. "A" 129th Ills. Vol.
Nashville, Tenn., Sept. 29th 1863
My Dear Wife
I recd. a letter from you on my return yesterday from Stevenson & looked for another this morning but was disappointed.1 I am happy to know that you continue to enjoy such good health. You wrote upon the eve of Frankie's first birthday, I doubt not, as your letter intimates you have upon reflection found the past year full of trial, care & trouble.
I have very often thought of your difficulties & wished that the exigencies of the case were not so urgent, so that I could in some way justify myself in returning home. But at present that must not be; & I believe God in his manifestations of love and mercy has given no evidence of his approbation. May we always prove deserving.
I had a rather tedious journey through this time but no accidents. I learned but little; it appears the farther one gets from a battlefield the more they can learn. The report of killed, wounded, and missing reported falls far short of the true amount. The lowest estimate is little short of 15,000.2 Another battle is impending. New troops are being sent forward, and, while thousands pass through here, we are still left behind.3 It is doubtless best so, but we feel that we are able to do more than stand guard all the time. It is possible that our opportunity will yet come; when we hope to be found among the first in our Country's Cause.
I have not learned anything from Bro. Johny yet, save that the Battery was on the Battlefield, & that is only surmise.4 I know nothing definite. The Artillery took but little part in the action; the nature of the country would not permit them. It is reported that Seigel's [sic] Corps will pass through the city this evening on their way to reinforce Rosecrans.5 I hope it is true. Another great Battle is impending. The Rebels must either fight or retreat.
My health is quite good. I am happy to hear that Frankie is improving in disposition.6 I will try and pray that God will give us wisdom to train him aright. I know your responsibilities are great, but I feel assured that you will be happy in the efforts you may make to lead our dear boy to Jesus. May God give you grace & strength.
I have received no letters from any source since I last wrote. My friends seem to have forgotten me. I intend to write to Sister Maggie [Utley] this evening. I wrote to Sarah Williams this afternoon & sent her a Photograph. I will send one to Maggie also.
I informed you in two former letters that Luther Van Doren's body never was found. We made diligent search for it. Christ Yetter has not been on duty yet, but I think is quite well. All the rest enjoy good health.
I hope your visit to Lizzie's [Zug's] may be pleasant. Tell me all you know about Anna's husband.7 How is Mother's health? Why has she not written? Write to me as often as you can. I am always very happy to hear from you. Give my love to all the family & Remember me kindly to all our friends.
May the riches of God's grace dwell with you & his blessings ever rest upon you.
Your Affect. Husband
J. F. Culver