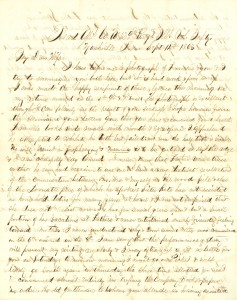 Head Qrs. Co. "A" 129th Regt. Ills. Vol. Infty.
Nashville, Tenn., Sept. 14th 1863
My Dear Wife:
I have before me a photograph of Frankie & you, & I try to imagine you both here, but it is hard work & poor success. I was made the happy recipient of three letters this morning on my return [from Stevenson] mailed on the 5th, 9th & 7th inst. The photograph is excellent, though I can plainly see the result of your sickness. I hope, however, from the assurance your letters give that you have recovered good health. Frankie looks wide awake with mouth & eyes open. I apprehend he attempted to exhibit his teeth but failed, not even the half tooth is visable.1 He will persist in prophecying & Mamma is to be gratified, so says the adage, & I can cheerfully say Amen!
I never knew that Father [Culver] wore a truss or that he ever had occasion to use one.2 I have a very distinct recollection of the conversation between Bro. Wes & myself on the wood pile, & also of the Tomatoe pies of which he spoke.3 Sister Kate has not assisted in household duties for many years at home, & I am not surprised that she does not assist now.4 She has for several years spent but a small portion of her vacation at Father's & never entertained much friendly feeling toward Mother. I never understood why.
Your second letter was commenced on the 6th & mailed on the 9th. I am sorry that the performance of duty will prevent my writing regularly, & I may often fail to get a letter for you on Saturday.5 To-morrow morning I must go on Picket & will likely go south again on Thursday. The short time alloted for rest is consumed almost entirely in keeping the Company Books & papers in order. The old gentleman to whom you allude as having assisted in the administration of the Sacrament was Father Squires.6 I know him well.
You have seen Mary Postlethwaite. I should be happy to hear that her sister Charlotte has married agreeably.7 I have still hoped that my old friend Troxel to whom she was engaged would yet return for her.8 I received a letter from him just before the mails were stopped [in 1861] in the south mailed at Atlanta, Georgia, in which he made many inquiries about her. I gave him all the information I could, but rather think my letter never reached him.
You say it is rumored that Mary is about to marry Alf Sponsler.9 I can scarcely believe it, yet would scarcely be surprised at anything she might do. When I was home last, she was engaged to a Mr. Lee, a Lawyer, who has since enlisted & is now either Lt. Col. or Major in the Army of the Potomac. I wish her no harm yet have but little hope, with her volatile disposition, she will ever realize much happiness in this life. It is perhaps my duty to warn you to be a little careful; I believe she would not hesitate to compromise your happiness in any way she might find convenient should opportunity offer. Sisters Jennie & Hannah know her well & will, I know, be discreet.
I never received even an intimation that Lucy Dunmire was married.10 I wrote to her & also to her Father in the early part of the winter but never received an answer & presume they never received it as the mails were very irregular at the time.
I should be very happy to see both Mrs. Caldwell & Mrs. Lynch & wish to be kindly remembered to them & also to their Mother, Mrs. Roney.11 I hope you will see their mother, she always was a very warm friend of mine &, like Charlotte Postlethwaite, a devoted Christian. They live by prayer & possess faith in an eminent degree.
I would like to know the name of the gentleman to whom Sister Kate was once engaged.12 I was aware that such a circumstance transpired but never could learn the man's name. Perhaps I may have known him; please tell me the name.
Alf Huetson brought my shirts & among them the one Mrs. Remick gave me which I wished to preserve. I am sorry that Frankie does not deport himself better but hope his mouth will soon be well, & then I think he will be less cross.13
I am sorry to hear of the sad condition of Harry Cheston's sister-in-law. None know the full realization of blasted hopes & the crushing weight of sorrow occasioned by such irreparable loss except those who have been afflicted.14 Luther Van Doren's body never was found; his poor mother has become almost entirely insane.15 Do you recollect John Horie? His Brother David deserted at Richland Station while you were there, & John died shortly after he got home.16 You saw him in the hospital at Gallatin. They were Brothers of Alf Huetson's wife. Their mother, after John's death & learning of David's desertion, has become hopelessly insane. Huetson says he did not dare go near where she was while at home.
I had a letter from Mother [Murphy] this morning which I will enclose. I have not seen Lt. Smith since his return [from furlough]. He left with a train [for Stevenson] before I got home this morning. I learn that his wife is rapidly recovering.
Letter No. 3: I have written letters every time I was in camp & do not understand why you have not received them.17 I am sorry to hear that Father [Culver] is no better in health.18 He must suffer intensely. Does he ever speak of me & what? Tell him I will be home to see him this fall if possible.
I hope that your Crab-apple jellie will be "Grafted into" "this portion of the Army."19 I hope the next letter will inform me of your good health.
I have almost consumed this entire sheet in answering your three letters, though I aimed to be brief. The early part of the evening was consumed in signing muster & pay rolls, preparatory to receiving our pay to-morrow; & the time has passed swiftly by till it is now ten o'clock.
Charlie Nelson died on Saturday morning [the 12th] & was buried here. I have not seen either Nelson or his wife to-day but heard that they are very much depressed. Sergt. Lemmon of Co. "D" died on Sunday morning.20 His wife was telegraphed for but has not yet arrived. He was home on Furlough but a few weeks ago & returned in excellent health. His disease was very similar to that of DeWitt's, Perforation of the bowels.21
There is a revival in progress about half a mile from here among the Kentucky troops. I have heard them singing & praying all evening. Quite a number from the Regiment went over, but Capt. [Hoskins & Lt.] Smith both being absent, I could not go. I received the notice of the renewal of my [minister's] license this morning. It is much more complimentary than I deserve, & I fear I have sadly degenerated. I shall try for the future, & live better. I have felt it a duty to preach occasionally but have had so little time to read that I have always concluded it was improper. I shall have to do something soon, or I fear I shall be lost beyond recovery. Pray for me.
Miller's Battery is in the vicinty of Chattanooga.22 Rumor says that a battle is raging between General Thomas' Division & Johnson's forces, but it lacks confirmation.23 There is also a report that our troops have taken 11,000 prisoners.24 Deserters continue to come in; over 600 passed through our lines on Sunday morning. While I was in Stevenson, I brought 25 [deserters] up on the train with me whose homes are in Kentucky & Northern Tennessee.
Miss[es] Paines have returned home.25 They send many kind messages. The weather is becoming quite cool in the night, but is still intensely warm in the middle of the day.
If I do not get home this fall, I think you will find pleasure in a visit here when the climate becomes settled & cool. It is just about the sickly season. Our Regt. is in very good health though the cases of disentery & flux are increasing. Several of the boys are complaining.
I will have some photographs taken soon & send you some. I have recd. no word from Sammy or Thomas [Murphy] lately. I wrote to Mother [Murphy] again a few days ago for some things. I have no word from Remick or Russell yet about the rent of the house or the disposition of the furniture.26 Mother [Murphy] informs me that Mr. Wm. B. Lyons has taken possession, & I think he will take good care of it.27
I was at John Harper again to-day to sell me his Quarter Block, but scarcely think I can effect a purchase.28 I should like very much to have them as we might raise some fruit.
Connelly has just arrived from Sevenson; he brings additional news of the battle.29 Our Army is moving steadily forward, & the Rebels are slowly retreating & fighting as they fall back. Their train brought quite a number of prisoners.
I must close. It is almost eleven o'clock, & I must get up early to get my letter off. The boys are just returning from church. Give my love to all the family & Remember me kindly to all our friends. Kiss Frankie for me. Write as often as you can & tell me all the news. Every name you mention brings with it some recollections of the past, and every object has its interest in memory. May Our Father in Heaven preserve you in health & the enjoyment of life. The war will soon be over, & we can be at home once more. Let us continue to pray.
Farewell,
Your Affect. Husband
J. F. Culver