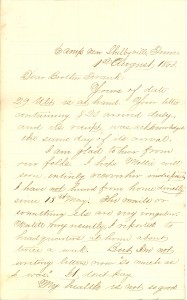 Camp near Shelbyville, Tenn.
1st August 1863.
Dear Brother Frank:
Yours of date 29 Ult is at hand. Your letter containing $20 arrived duly, and its receipt was acknowledged the same day of its arrival.
I am glad to hear from our folks. I hope Mollie will soon entirely recover her indisposition I have not heard from home directly since 13th May. The mails or something els are very irregular. Untill very recently, I reported to headquarters at home about twice a week. But I'm not writing letters now "so much as I was." It don't pay.
My health is not so good since our stay here, as it usually is. I always feel better when we are on the move. For the benefit of my health I am trying to get a transfer to the cavalry arm of the service.
No news here.
Affectionately your Brother
W J Murphy
Battery "M" 1st Ill. Arty.
Shelbyville Tenn.