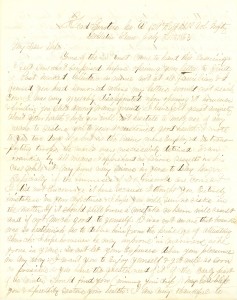 Head Quarters, Co. "A" 129th Regt. Ills. Vol. Infty.
Gallatin, Tenn. July 30th 1863
My Dear Wife
Yours of the 28th inst. came to hand this evening. I felt somewhat surprised before opening your letter to find it Post Marked Clinton, a name not at all familiar,1 & I feared you had removed where my letters would not reach you. I was very agreeably disappointed upon opening it, however, & finding you still among warm friends. I have felt great anxiety about your health & hope you will not hesitate to make use of any means to restore you to your accustomed good health.
I wrote to you two days ago but as the trains were employed in transporting troops, the mails were necessarily detained. Wean Frankie by all means. I apprehend no serious results in his case, while it may prove very serious in yours to delay longer, especially if the surmises of Dr. Griswold are correct.2 I did not encourage it here [weaning Frankie] because I thought you entirely mistaken in your conjectures, & I hope you will run no risks in the matter. If it should still prove a mistake, no harm will result, and if not, much good to yourself.
I was not aware that Frankie was so heathenish as to debar him from the privilege of attending church. I hope, however, he may improve in manners, as he grows in years.3
Do not let your expenses debar your pleasure in any way. I want you to enjoy yourself & get well as soon as possible, & you have the greater need of it if the early part of the winter should find you (winning your dress). May God bless you & speedily restore your health.
I am very thankful to Mr. Scott for his kindness, & hope some day to have the pleasure of taking a ride myself on the S. D. Caldwell.4
Thomas [Murphy] has not written, neither have I heard from Johnie lately. I have a perfect understanding of how matters stand with Sis & also Miss Turner, as I saw Miss Turner's letter on the subject. (Mum).
You will Remember me kindly to Mrs. Williams & all the family. I dare not think of the pleasure it would give me to accept her kind wishes & assist to make your Visit a happy one. Perhaps when my duty is done here I may be permitted to see them all.
I am under obligations to Miss Sarah for a very kind & interesting letter which I will try and answer. I am sorry that my letter never reached her as I wrote quite a lengthy one as you can testify. Remember me also to Miss Aggie Davidson. Perhaps she will recollect my Visit at Utica; though short, it was very pleasant. I am exceedingly sorry to hear of the death of Miss Reed. My recollection is that she played the Organ when I was there. Am I correct?
It has been raining hard for the past 24 hours, leaving everything very wet & damp. We have scarcely got well dried since you left, almost continual rains. Pegram with 2000 men went into Kentucky on Monday to help Morgan not having heard that he was Captured.5 He is rapidly retreating with some 6 or 7,000 troops on his flank & rear.
I have had no news from home since I last wrote. I expect to hear from Russell very soon.
It was one year ago on Wednesday [the 28th] since I left you on the little porch to attend the meeting in which I signed my name as a recruit. Do you recollect it? I shall never forget your look when I returned & told you what I had done. How easily I read your thoughts, & oh, how I thanked God for so noble [&] self sacrificing a heart, as he had given me in my wife. When all the anticipated pleasures of a life were placed in the balance, with a dark prospective future and on the other hand duty, she had no remonstrance but cheerfully yielded all to the cause of right & Country. Few men have greater incentives to deeds of bravery than I have. May God abundantly reward you.
Very many times have all these circumstances recurred to my mind, & I have always felt that I should ever strive to be worthy [of] the confidence reposed in me, & give you no reason to regret your resolution. Pray for me.
Christ Yetter promised to write to you but has not done so yet. He came off duty this morning wet to the skin & has not been feeling very well to-day. Mrs. Smith is much better & expects to be able to travel home in ten days. Capt. Reed will return from Pontiac by Monday, & we will get the news.
Charlie Paige is in Pontiac & report says he has been appointed Brig. Genrl. of [a] negro Brigade. I doubt it very much. I hope he may be useful for once.
Alf Huetson has been experimenting in vaccination on himself & has a very sore arm; I think the bins [?] he used must have been impure. He has several large boils which are quite painful.
Phil Plattenburg [Regimental Adjutant] has been sick for several days, & I have been assisting him some. I made out the Consolidated Monthlies for him today & find the total sick in the Regt. only 48; a very small list, indeed, which tells well for the health of the Regiment.
Dr. Johnson & Bob Edgington are in Louisville to see their wives, who are there but could not get through the lines. I do not know whether they intend to bring them here or not.
Nelson has put up a tent, & his wife expects to stay in camp.6 We received a dispatch from Genrl. Rosecrans, inquiring if Nelson was dangerously ill. It seems his wife telegraphed for a pass, stating that he was; but she got through & it did not become necessary to answer it. He has not been sick at all. I intended to answer Sarah's letter to-night, but it is getting very late & I think I shall defer it until to-morrow evening.
I have written a much longer letter to you than I expected & laughed at myself for selecting so large a sheet. My health is quite good. We have apples plenty. Peaches and plums are ripening, but are not plenty [iful] yet.
If I could step into Mrs. Williams' Parlor to-morrow morning, I would give you one of the sweetest kisses you ever had. Please accept it, at any rate; & perhaps I shall be able to make it good someday. I want you to be well enough to come & see me this fall if I cannot get home & we remain here.
Read at your leisure the 25th and 35th chaps. of Isaiah. Give my love to Mother, Frankie & all our dear friends. I shall look anxiously for another letter soon. The paper you sent has not yet come to hand. "Do not be discouraged" but persevere. I must say Good-night, praying that God will be with & bless you all.
Your Affect. Husband
J. F. Culver