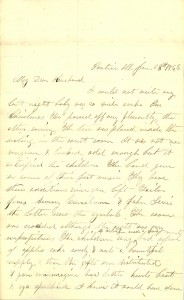 Pontiac Ill. Jan. 23th 1863
My Dear Husband
I could not write any last night baby was so wide awake Our "Christmas Tree" passed off very pleasantly the other evening The tree was placed inside the railing in the court room It was not an evergreen & looked odd enough but it satisfied the children The band gave us some of their best music They have three additions since you left Tailor Jones Sammy Greenebaum & John Lewis the latter uses the cymbals The room was crowded although the night was very unpropitious The children sang, Mr. Ketchum made a speech, had refreshments of apples cake candy & nuts a bountiful supply & then the gifts were distributed & you can imagine how little hearts beat & eyes sparkled I know it would have done your heart good to have seen them
W T Russel had a big white cotton flannel rabbit given him which created no little amusement Henry G, something black which I think was a little "nigger baby" though I caught only a glimpse of it Mrs. Maple, put on a rattle box for Mr. McLeary but we thought it was too bad & took it off the tree & sent it to his wife by Mrs. Ryan Mr. Strevel got his dressing gown but I did not get Mrs. Fishers slippers solid in time for the Tree. I will give them to him next Monday Frankie received a pair of mittens & I a blue silk hair net Right in the midst of it all came your letters by the hand of Mr Loomis which I valued most.
Sunday Eve. Jan. 25
Dear Frank since I last wrote here I have been sick but feel better now Dr did not say what was the matter I had sore throat, fever, loss of appetite &c. My throat feels very sore yet but we hope it will not last long I had a letter from Sarah Williams last week She is better than she has been for a long time & attributes it to strong beer Dr. Capron advised me to dring beer or ale I am afraid we shall all become tapers I also had a letter from brother Tomas with his photograph it is very good one he inquires very minutely in to my financial affairs & reiterates his wish to relieve me if at all embarassed. I learned greatly to my surprise yesterday that Mrs. Smith had started for Mitchellsville I supposed she had given it up entirely I was sorry not to see her before she left I received your letters of the 18 & 20 yesterday I will answer the first tomorrow & the second as soon as I am able to go out I hope to hear from you very soon Frankie still hoops & coughs a good deal little May also has the hooping cough
God bless you my husband
As ever your aff. wife
M.M. Culver
over
Mr. Taylor wrote to you some time ago & wants to know if you ever rec'd it Is there a man by the name of Dawson in Com. G. Father wants to know Mother received your letter also Maggie Our cow which Mr. Custer bought I suppose is dead now, they thought she would die saturday She got hurt somway They never have paid me but $12, Should they be willing to pay the remaining six.
Much obliged for your good opinion of the officers of the M.E.S.S. You must rememember that none of us have the energy perseverance or tact which many have & which is necessary for the welfare of any Sabbath school I told Charley the other evening that he was too bad to desert us now he said that was not his intention he is simply acting as secretary for Mr. Strevel until after the S.S. Christmas festival
Mrs. Deharmandy Mrs Royce & two children & Bond went to Penn'a, a few weeks ago Bond was robbed in Harrisburg of his pocetbook it contained $150 & 200 in due bills, he borrowed money & turned right round & came home he said before he started that he was going after Mrs. De Witt
M M Culver