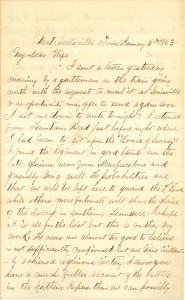 Mitchellsville, Tenn., January 6th 1863
My Dear Wife
I sent a letter yesterday morning by a gentleman on the train going north, with the request to mail it at Louisville, &, as opportunity may offer to send again soon, I sit me down to write to-night. I returned from Fountain Head just before night, where I had been to sit upon the "Board of Survey."1
I found the Regiment in good Spirits over the late glorious news from Murfreesboro and generally doing well. The probabilities are that we will be left here to guard the R. Road, while others more fortunate will share the glories of the success in southern Tennessee.2 Perhaps it is all for the best, but this is rather dry work.
The news are almost too good to believe & not sufficiently confirmed, but we have evidently achieved a glorious victory. I know you have a much fuller account of the battles in the Northern Papers than we can possibly get here, & we are waiting anxiously to get some Northern papers.
We have neither mail or tidings from the North, nothing of home or friends. How eagerly all look for the arrival of the trains, & yet they pass us day after day without bringing any news. Everything is contraband of war, nothing can be taken off the wires & nothing allowed to be published. Yet we are all well, for which all thanks to a kind Providence.
Much has been said about the war closing after this battle, but I anticipate many more before the consumation of that happy event while I hope the crisis will soon be passed.
We have rumors of a battle at Vicksburg3 & also in Arkansas4 but nothing reliable. No news from the Potomac since the 28th December.5
I saw McCartney to-day, he was quite well. Every person was enquiring the news from home, &, though I have been absent from the Regt. but two days, very many hoped that some tidings from home might have reached me. As I can form no idea when I shall hear or receive any letters, I shall look daily.
I want you to write all the same as if you were sure I received them, so that when they do arrive I shall have a full history of all that has transpired. I feel more confident to-night that you are all well than I have since communication was cut off. So much for the presentiment, I hope it may be true. Smith & Hoskins are both quite well. The time passes rather slowly on our hands here. I wish I could get hold of something good to read, but it is at present impossible. Perhaps we may be called into more active service soon.
I took breakfast with Lieuts. Blackburn & Fitch & their wives this morning. The ladies seem quite anxious to get home.
We have very comfortable accommodations at present. Let me urge you not to neglect to write. Give my love to all the family. What has become of Bro. Johny? Is he still at home? Tell me all the news as they transpire.
May the blessings of Heaven rest upon you, my Dear Wife, & upon our babe. May our Father keep you safe from danger & bestow upon you the riches of his grace.
Farewell,
Your Affect. Husband
J. F. Culver