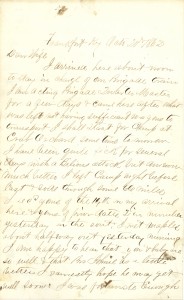 Frankfort, Ky., Octr. 20th 1862
Dear Wife
I arrived here about noon to-day in charge of our Brigade train. I am Acting Brigade Quarter Master for a few days & came here after what was left, not having sufficient wagons to transport.1 I shall start for Camp at Crab Orchard sometime to-morrow.
I have been quite sick for several days with a Bilious attack but am now much better. I left Camp night before last & rode through some 66 miles. I recd. yours of the 14th on my arrival here & yours of prior dates, 2 in number. Yesterday on the route, I met Maples about halfway out yesterday morning.2 I am happy to hear that you & baby are so well & that Bro. Johnie [Murphy] is a little better. I earnestly hope he may get well soon.
I was fortunate enough to get a bed both nights out, & I think it accounts for my feeling so much better. It is the first time I have been in bed since I left home. Whoever "Livingston" is, he must have weak legs. I was tired but got along well enough. Allen Fellows is with the Regiment. I do not know how such reports get home unless some one was frightened. I have been ordered to do nothing as yet I was not able to do, & I anticipated hardships before I left home.3
I wrote to Bro. Utley at Crab Orchard & am glad to hear of Maggie's condition.4 With regard to renting the house, I want you to suit yourself. I shall be satisfied with your selection of a renter. The all important point is to get the rent, for from present prospects there will be no pay forthcoming for months.5
I hope Bro. Thomas may receive the richest of Heaven's blessings.6 My words cannot express what I feel. I have not heard from home [Carlisle], yet I requested that the letters be first sent to you. I cannot account for it. Have you written to Mother [Culver] yet, if not, will you not do so? We have been so much of the time on the march lately that I could not write as often as I wished.7 I found another lot of stamps in one of your letters, again for which you have my thanks.
The Army when I left Camp were about to march; no one knew their destination. I may get a dispatch from them to-morrow. If so, I will let you know.8
I shall be very happy to see "Papa's Boy" & would like to see the boy's mother, too.9 I sent my Bible home & took a testament; I had no way to carry it.
Consult Bro. Utley about renting: I think he will assist you. Should you rent it furnished, be careful of my papers, though I believe it will rent for more & be cheaper in the end to move the furniture out or keep one room. You will need some of it wherever you go. Be careful & reserve the privilege of taking possession at the end of each month.
It is getting quite late, & I have some business to attend yet to-night. I will answer yours at length when I get into Camp. Give my love to Johnie. I do hope he will soon recover, also to mother, Maggie, Mary, Leander, Thomas, Sammy &c. Kiss baby for me & tell Johnie to kiss my wife for me. Farewell. Write soon & often. You do not know how much good it does me; it is better than medicine. Send me a paper occasionally; I just got the news to-day of the last fight in the East some three weeks ago.10
Again Farewell.
Your Affect. Husband
J. F. Culver
P.S. Smith must have made a mistake.