Each week we will highlight one of the many databases we have here at the Pomerantz Business Library.
The database: RMA Annual Statement Studies/eStatements Online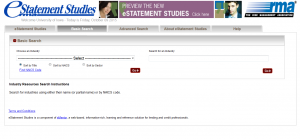 Where to find it: You can find it here, and under R in the databases A-Z list.
For over 95 years, RMA's Annual Statement Studies® has been the industry standard for comparison financial data. Material contained in today's Annual Statement Studies was first published in the March 1919 issue of the Federal Reserve Bulletin. In the days before computers, the Annual Statement Studies data was recorded in pencil on yellow ledger paper! Today, it features data for over 778 industries.
Use it to find:

Industry Financial Ratio Benchmarks
Industry Default Probabilities
Cash Flow Measures
Data definitions
Tips for searching:
Use the Basic Search

Browse by industry title (alphabetical)
Browse by NAICS
Browse by sector
Search for an industry by keyword or NAICS

Use the Advanced Search to specify: data group, year, region, range, and type of data.
Export data into Excel
Want help using RMA Statement Studies? Contact Willow or Kim and set up an appointment.