Each week we will highlight one of the many
databases we have here at the Pomerantz Business Library.
The database: PrivCo
Where to find it: You can find it here, and under P in the databases A-Z list.
Use it to find:
Business and financial data on major, non-publicly traded corporations, including family owned, private equity owned, venture backed, and international unlisted companies
Company reports: often include business summary, competitors, ownership, financials, and a detialed business description
Private market investors
Venture capitol funding
Private mergers and acquisitions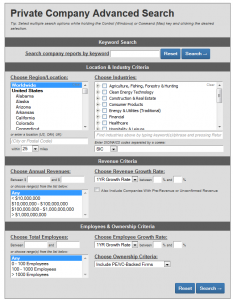 Tips for searching:
Use the search bar at the top to quickly find a known company or investor

Use the quick private company screener, in the middle, to search by location, industry, and revenue

Use the black tabs across the top to search for: private market investors, venture capitol funding, private M&A deals, private equity deals
Demos: The following demo can be viewed on YouTube:
https://www.youtube.com/watch?v=BT2TKkaeoAU
Want help using PrivCo? Contact Willow or Kim and set up an appointment.