Shakespeare's First Folio on Display until September 25, 2016 in the Main Library Gallery.
See http://shakespeare.lib.uiowa.edu/ for more details about the exhibition and more than 50 related events.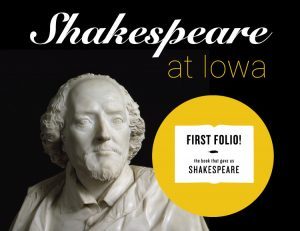 Newsfeed:
First Folio News Coverage:
In Memory of Gene Wilder: His Papers in the News:
New Acquisition:
New Furniture in the Iowa Women's Archives
Thanks to generous donors IWA has updated with new paint and furniture to prepare for the 25th anniversary celebrations next year.
See a live tour of the new furniture:
Instruction Update:
The Special Collections & University Archives' Instruction Program policies ensure that we provide high quality instructional support to your classes. Be sure to look over these policies to understand how our workflow will impact the planning, preparation, and running of your sessions.
(Click on link) InstructionProgramPolicies
---
Donate to the University Libraries' Special Collections Fund
Want to stay connected?  Follow us on social media: