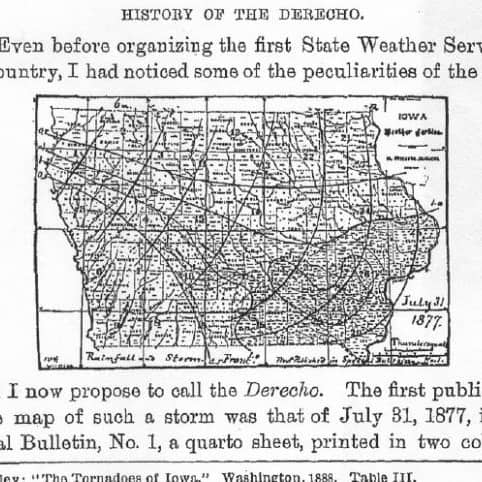 On Monday, August 10 many Iowans were left stunned by the ferocity and destruction left in the wake of a band of storms accompanied by straight-line winds that blew through the state with the force of a hurricane. But in the aftermath, media references to a "derecho" caused many of us to scramble to the Internet for a definition.
What many of us didn't realize is that this term was coined at the University of Iowa by professor of physics and chemistry Gustavus Hinrichs in the late 19th century. The first formal use of the term derecho in publication occurred in an 1888 article authored by Hinrichs in the American Meteorological Association Journal entitled "Tornadoes and Derechos." However, the term was not widely used until after its appearance in a 1987 article that appeared in the journal Weather and Forecasting.
In June 1998 when a similar storm hit the state, blowing freight train cars off a bridge in Iowa City and into the Iowa River, scarcely a mention could be found for "derecho" in the Iowa City Press Citizen, Cedar Rapids Gazette, or The Des Moines Register. The Daily Iowan, however, did make mention of a bow echo, which is typically associated with derechos. That storm system came to be known as the Corn Belt Derecho of 1998. Even as late as 2009 Jack Williams noted in The AMS Weather Book that "this term isn't very well known." That is now likely no longer the case.
The August 2020 Midwest derecho received considerable national media attention, and has been called an historic event. What made this derecho so noteworthy is that very high winds persisted for an unusually long period of time. Siouxland News reported that, "Winds in the Linn County and Cedar Rapids area were likely in excess of 100 mph for nearly an hour." The maximum wind speeds of this storm, both measured and estimated, correspond to wind speeds of EF2 and EF3 tornadoes respectively.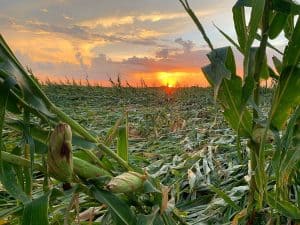 According to Des Moines Office of the National Weather Service Overview, the derecho traveled 770 miles in 14 hours, corresponding to an average speed of 55 mph.
Derechos, a type of mesoscale convective system, are minimally defined as long-lived wind storms that produce a swath of wind damage over more than 240 miles with wind gusts of at least 58 mph along most of its length.
The National Weather Service offers a wealth of information on derechos, including a basic primer at its JetStream site, as well as an extensive Facts About Derechos article.
Additional Reading and Resources
Severe and hazardous weather : an introduction to high impact meteorology
Storm chaser : a photographer's journey
Storm chasing : on the hunt for thunderstorms
Glossary of Weather Terms for Storm Spotters
Many thanks to Kai Weatherman for writing this informative post!