Starting on March 31, 2017, the School of Music will host three Collage concerts celebrating the opening of the Voxman Music Building at 93. E. Burlington St. "Coming Home" is the theme of the year, especially for the many alumni who have journeyed to see the new space and hear music fills its halls. Historically, the University of Iowa School of Music has often grappled with the concept of "home," especially since the program has spent only 37 years of a 110+ year existence in a centralized location.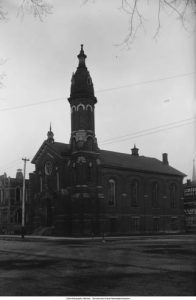 1906-1971: Seeking a home
When the School of Music, Affiliated was established in 1906, it occupied space in what became Unity Hall (close to present day Phillips Hall). However, faculty studios were also in homes and ensembles rehearsed in MacBride or the Armory (near the current English Philosophy Building). In its second year, the school took over space in the Dey Building across from Unity Hall on the corner of Iowa and Clinton.
In a 1920 memo addressed to University president Walter A. Jessup, newly appointed School of Music director Philip Greeley Clapp outlined the dire facilities situation, including lack of soundproofing, "doors that will stay neither open nor shut," a lack of practice rooms, no dedicated performance and rehearsal spaces for large ensembles, and insufficient security. He was pragmatic, recommending that the School would be happy to be "tucked into new or old building with other departments" but warns that "perhaps the others may not care for our company!"
He concludes:
These are not "frills" but crying needs…I cannot omit to point out that developing a department of music under present conditions is almost like building a house without tools. Certainly a ten years' delay would stifle all growth!
By the 1930s, Clapp felt the School was reasonably well served by its facilities, especially with the addition in 1931 of what became known as the "School of Music Building" on the corner of Gilbert and Jefferson. In 1954, Clapp stepped down as director and was succeeded by Himie Voxman. Documentation shows that Himie started advocating for a new building early on in his tenure as Director. It was time for the Department to teach, practice, learn, rehearse, study, and perform under one roof.
1971-2008: A place to call home
In 1968, it was announced that a new fine arts complex would be constructed on the west bank of the Iowa River to house the School of Music and several other arts venues. The state supplied 2.7 million and several federal grants totaling 1.5 million funded the School of Music portion, though the entire complex would end up costing around 11 million. Architect Max Abramovitz (New York) designed the complex, which included a 700-seat recital hall named for P. G. Clapp, a 200-seat hall named for administrator Earl Harper, and a large 2,5000+ seat performance space that would be named in memory of UIowa president Virgil Hancher. The School opened in 1971 and Hancher Auditorium rolled out the red carpet in the fall of 1972.  A headline in the Iowa Press-Citizen read, "Makeshift Days Ending at Iowa School of Music" – for the first time in its 60+ year history, the School had a place to call home.
The Building carried a generic title for many years. However, in 1995 the Board of Regents, at the urging of what Himie Voxman called, "a small but very determined and energetic group of my friends," named the School of Music Building in honor of Mr. Voxman and his many accomplishments on behalf of the University of Iowa's music programs. Mr. Voxman's speech at the May 2, 1995 building dedication ceremony recognized that:
Most awards and honors are destined to be placed on the lapels of jackets, hung on walls, displayed on shelves or, in some cases, deposited in banks. I believe my honor is something special. It is so great and so significant it can only be worn in one place – my heart.
2008-2016: The loss of a home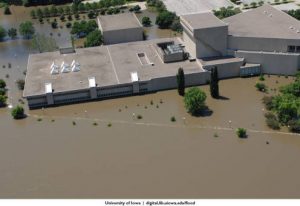 The 2008 Flood of the Iowa River ended in tragedy for the Voxman Music Building. Deemed a loss by the Federal Emergency Management Agency (FEMA), the Voxman Music Building was razed in 2013 with plans for a replacement facility launched in 2009. Over the next eight years, the School occupied over 20 different campus and community buildings in order to supply studios, office, practice rooms, classes, rehearsal and recording spaces, performance venues, and library services. After much discussion, the decision was made to separate Hancher Auditorium and the School of Music, the latter of which returned to a mere three blocks south on Clinton Street from its first home in Unity Hall on Clinton and Iowa.
2016-present: Coming home
In August 2016, the School of Music moved into its new home on the corner of Burlington and Clinton in downtown Iowa City. The 184,000 square foot building includes a 700-seat concert hall, 200-seat recital hall, organ recital hall, rehearsal rooms, the Rita Benton Music Library, practice rooms, classrooms, studios, offices, and a student commons. More importantly, it houses all of the faculty, staff, and students of the School of Music under a single roof, right in heart of Iowa City.
Be sure to check out the "Building a School of Music" exhibit, which will be on display from April-July in the first floor hallway case located outside of the School of Music offices and across from the Rita Benton Music Library.