Chamber music has been integral to the educational and creative life of the University of Iowa School of Music for over a century. Below are a few examples, including audio clips, from 1972 to the present that allow you to experience this delightful form of music making – whether you were there to hear it in performance or not.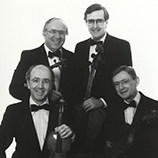 Iowa String Quartet / Stradivari String Quartet
Founded in 1936, the Iowa String Quartet / Stradivari String Quartet included faculty performers Allen Ohmes, John Ferrell, Don Haines (violin), Bill Preucil (viola), Joel Krosnick, and Charles Wendt (cello).
Audio excerpt: Quartet in Eb Major, K. 428 / Wolfgang Amadeus Mozart
The Stradivari Quartet performed a cycle of ten Mozart string quartets during the inauguration of the new Music Building when it opened in 1972. This work launched the series, which took three recitals to complete.
Maia Quartet
The Maia Quartet came to the University of Iowa as Quartet in Residence in 1998 and stayed for thirteen years. Violist Beth Oakes became director of the University of Iowa String Quartet Residency Program, bringing nationally renowned ensembles to Iowa City to work with students and delight audiences.
Audio excerpt: Concerto in A minor for String Quartet, op. 131 / Louis Spohr
Following the 2008 flood of the Iowa River, the School of Music scrambled to find performance venues for the Fall semester. The Chamber Orchestra landed in MacBride Hall Auditorium in November for a double bill of Haydn's Symphony in Eb Major, No. 103 "Drum Roll" and this three movement concerto for string quartet by Spohr – listen to the Allegro moderato opening movement below.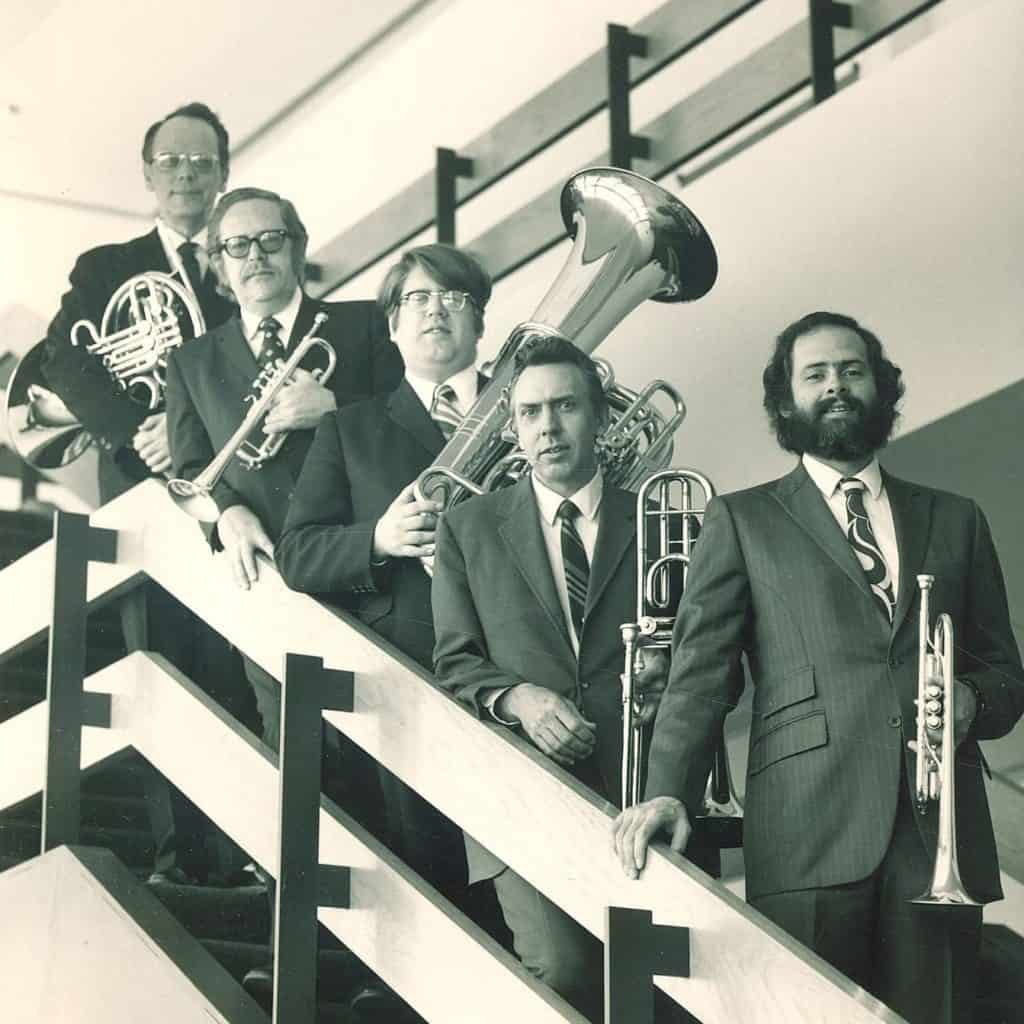 Iowa Brass Quintet
The Iowa Brass Quintet has been providing an aural counterpart to faculty and resident string ensembles since 1963. Members have included faculty musicians Paul Anderson, Kristen Thelander, and Jeff Agrell (horn); John Beer, David Greenhoe, and Amy Schendel (Trumpet); John Hill, George Krem, and David Gier (trombone); Robert Yeats and John Manning (tuba), along with a variety of graduate students and local brass players stepping in on second trumpet to complete the ensemble.
Audio excerpt: Quartet No. 2, op. 29 / Wilhelm Ramsøe
This work rounded out a recital in 2014 when the ensemble included Amy Schendel and Laura Saylor (trumpet); Jeff Agrell (horn); Dave Gier and Jonathan Allen (trombone); and John Manning (tuba). This is a rather early brass quintet, and one of five composed by Ramsøe, who was himself a violist. This movement is the Minuetto.
Iowa Woodwind Quintet
The Iowa Woodwind Quintet officially launched in 1964, though like the brass quintet, faculty quintet playing preceded a formal ensemble. Long-time members included Betty Bang Mather, Tamara Thweatt, and Nicole Esposito (flute); James Lakin, Mark Weiger, and Andy Parker (oboe); Thomas Ayres and Maurita Murphy Mead (clarinet); Paul Anderson, Kristin Thelander, and Jeffrey Agrell (horn); Ronald Tyree and Benjamin Coelho (bassoon).
Audio excerpt: Suite for Winds No. 1, Op. 57 / Charles Lefebvre
A popular work for woodwind quintet, this recording of the Suite for Winds by Lefebrve was performed on a 1991 recital featuring Betty Bang Mather (flute), Mark Weiger (oboe), Maurita Murphy Mead (clarinet), Ronald Tyree (bassoon), and Kristin Thelander (horn).