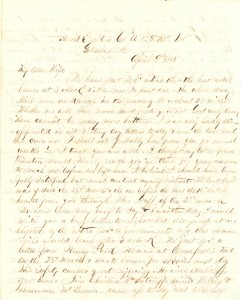 [google-map-v3 width="400″ height="300″ zoom="12″ maptype="hybrid" mapalign="right" directionhint="false" language="default" poweredby="false" maptypecontrol="false" pancontrol="false" zoomcontrol="true" scalecontrol="false" streetviewcontrol="false" scrollwheelcontrol="false"  addmarkermashupbubble="false" addmarkerlist="35.385965; -77.996854{}1-default.png" bubbleautopan="true" showbike="false" showtraffic="false" showpanoramio="false"]
Head Quarters Co. "A" 129th Ills. Vols.
Goldsboro, N.C.
April 9th 1865
My Dear Wife
We have just recd. notice that the last mail leaves at 3 o'clock, and it is now 1/2 past one. The whole Army will move on Raleigh in the morning;1 it is about 50 miles. Whether we will have much hard fighting or not, God only knows. There cannot be many more battles.
I was very sadly disappointed in not getting any letters to-day; & now the last mail has come in, I shall not probably hear from you for several weeks. Yet I trust you are well. I thought my letter from Kinston [of March 24] would surely reach you in time for your answer to reach me before we left here. I believe I should have been fully satisfied but must content myself without. The last I recd. was of date the 23rd March & the one before the last the 16th, but I heard from you through Bro. Gaff of the 28th March.
We have been very busy to-day, & I was thinking I would write you a long letter to-night, but that prospect was blighted by the notice recd. a few minutes ago that no more mails would leave after 3 o'clock. We just recd. a letter from Henry Polk; he was at Annapolis, Md., on the 28th March & was to leave for St. Louis next day. His safety causes great rejoicing; he will doubtless get home.
Jim Chritten, Wm. Sutcliff, Winnie Kelley, & Sherman McQuown came up to-day. Mat DeLong will be here to-morrow.
We had a most excellent meeting this morning, & the Sacrament of the Lord's Supper was administered. It was a blessed time. God grant that we may soon enjoy such a privilege at home with our loved ones. Wm. Bronson's discharge papers came this morning, & he starts for home to-morrow. I do not think we will get to see him again. WE HAVE (I commenced a sentence but was interrupted & forgot what it was). Alf Huetson has just come in & brings glorious news. Genl. Grant has telegraphed us to move on Johnson[sic] & end this matter as soon as possible.2 Henry Snyder was sent to the rear yesterday sick;3 he is not very bad but was unable to march. All the troops are in good spirits & are tired of camp. We are well prepared for the campaign. The weather is beautiful.
I took my chair to the fire after breakfast this morning & reread & burned all your letters, 13 in all. It seemed sacriligious, but I could not run any risk of their falling into strangers' hands. I wished very much to preserve them. I kept only the last one & hoped to place another in my pocket this afternoon & burn it, but I will carry this one to read occasionally.
We have just learned that John Harper has been exchanged so he will probably be at home soon.4 I find it almost impossible to write as there [are] so many questions to answer & things to attend to. Everyone is busy packing up. I will not get time or opportunity to write to the Sunday School or Church; I intended to do so this afternoon. You must remember me to them & tell them that I have been so very busy, but I have prayed for them every day since I left. I think Bro. Crist might have answered my letter but presume he had not time.
Give my kind regards to all my friends. I intended to write to Abbie & Lida Remick but have the same excuse to all. Want of time. My "Sentinel" has not come yet through. I saw one to-day of the 16th containing my Charleston letter full of mistakes. Before this reaches you, we will be beyond Raleigh, or at least fight[ing] for it.
We are to draw some clothing in a few minutes, & I must cut my letter short. There are so many things I wished to write about, but in the hurry I shall not be able. If it be Our Father's will, I will make up for it when the campaign is ended. Be of good cheer, &, during the long weeks in which you may not hear from me, trust more in God. He will care for us. I feel that I can trust him wholly. If I should fall, we will certainly meet in a better and happier world, & you must teach Howard to remember me. Kiss him Good bye for me.
I feel very happy to-day knowing that God is ours and that his love is exercised toward us. I feel very thankful to our friends in Pontiac who are trying to make you happy by their kind attentions. Remember me particularly to Mrs. Johnson, Emily, Mrs. McGregor & family, Mrs. Smith, Lou, & all others who by their kindness comfort you in my absence. And now, dearest, I must say Good bye for a short time. Kiss Howard occasionally for me. I commit both you & him to the kind care of Our Father in Heaven. Write often. Should communication be kept open, I might possibly hear from you, & at all events, I will get them when the campaign closes. By orders just recd. our letters must be directed as follows.
May the richest of Heavens blessings rest upon you. With a kiss and much love, I remain through life,
Your affect. Husband
J. F. Culver
(Kiss)
Co. "A" 129th Ills.
1st Brig., 3d Div., 20th A.C.
Army of Georgia
Fortress Monroe