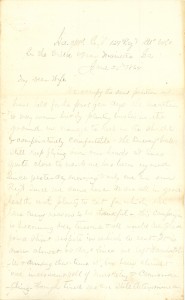 Hd. Qurs. Co. "A" 129th Regt. Ills. Vols.
In the Field Near Marietta, Ga.
June 25th 1864
My Dear Wife
We occupy the same position we have held for the past few days. The weather is very warm, but by planting bushes in the ground we manage to keep in the shade & comparatively comfortable. The Enemy's balls still keep flying over our heads, at times quite close to us. No one has been injured since yesterday morning, & only one in our Regt. since we came here.1
We are all in good health with plenty to eat for which we have every reason to be thankful. This Campaign is becoming very tiresome, & all would be glad for a short respite in which to rest. It is now almost 60 days since we left Wauhatchie, &, during that time, it has been almost one incessant roll of musketry & cannonading. Though tired we are still determined to carry out as near as possible the original intention of the Campaign.2 We have heard heavy cannonading in the direction of Kenesaw mountains all morning.3 With what result we cannot tell.
We have no late news from Grant's Army, except that they were rapidly crossing James River.4 Of course, none can tell the final result of all our efforts, but, trusting in God, all will be well. If I could see anything but misery in any other than a complete victory to our arms, I might doubt the intentions of Our Father. I therefore feel Satisfied that he will not sacrifice this great nation & people without the accomplishment of some great design. Victory must then be ours, & while we wish no evil to our erring enemy, yet we pray God that their eyes may be opened & that right and truth may prevail.
We have been looking for Jim Morrow for several days, but he has not yet arrived.5 Judd was back to Chattanooga & returned yesterday.6 The Rebs succeeded in destroying the R. R. Bridge near Tilton, but it was rebuilt & the trains running in 24 hours afterward.7 Green saw Sergt. Gaff this morning; he was well.
There is heavy skirmishing on our right, &, as we may have work to do here,8 I must close. I have not heard from Bros. John or Sammy for some time. Give my love to all. May the richest of Heaven's blessings rest upon you. Trust ye in the Lord forever, for in the Lord Jehova is everlasting strength.
Your Affect. Husband
J. F. Culver
P.S. Nate [Hill] & Chris [Yetter] are well.