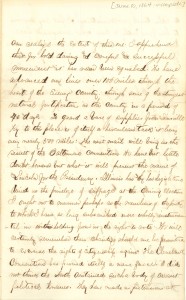 The first page (or pages) of this letter is (are) missing. [June 10, 1864]1
I apprehend that for bold, daring, and careful and successful movement, it [Sherman's Atlanta campaign] has never been equaled.2 We have advanced our lines over 100 miles through the heart of the Enemy's country, through some of the strongest natural fortifications in this country, in a period of 40 days.3 To guard a base of supplies from Louisville, Ky. to this place is of itself a herculean task, it being very nearly 500 miles.4
The next mail will bring us the result of the Baltimore Convention.5 We have but little doubt, however, but what it will present the name of Lincoln for the Presidency. Illinois has by her Legislature denied us the privilege of suffrage at the coming Election. I ought not to murmer, perhaps, as the members of the party to which I have so long subscribed [the Democratic] were wholly instrumental in withholding from us the right to vote. We will certainly remember their charity should we be permitted to exercise the rights of citizenship again.
The Cleveland Convention has proved itself a mere farce.6 I did not think the North contained such a body of arrant political knaves. They have made no pretensions to either truth or consistency.
I feel very anxious to hear from Mother [Culver], & know what arrangements have been made for her comfort. The only word I have had from home was through Bro. Wes, who had opened my letter in Mother's absence and answered hastily.
I am sorry to hear that Miss Shellenbarger is not in good health. I have not yet been able to learn definitely anything about Bronson.7 I fear the report of his death is too true. We have no further news of our wounded. I feel very anxious to learn where they are that I may send them their descriptive Rolls, so that they can draw the pay due them.
I expect Chris Yetter up shortly unless he should get a furlough home, I need him very much, as I am so very closely confined. I have to depend on Green to procure our rations;8 he does very well, but a great deal is wasted.
I have not learned yet whether Thomas Hill has paid the $100 due me from Shellenbarger on my notes in Lawrence's hands. Please give it a little attention. I presume the letter of the Freeport Insurance Co. will set the transaction with David Cox all straight. We should know something by this time of the settlement of Father's estate. I will write to Mother to-day if I get time. I would also like very much to write to the Sabbath School & to a number of friends in Pontiac, but I will have to wait until the close of the Campaign.
I do not often have as good opportunity for writing as I have this morning. I found a cracker box & the Orderly furnished me some ink. My pen I have carried thus far safely.
In a letter Nate [Hill] recd. from his Bro. a few days ago, he says Henry Greenebaum is married. I wish him much happiness if it be true. I think it is a mistake, however, as he did not expect to be married before summer.9 Perhaps his intended decided, as a lady I could name, that "summer was too warm," &, not willing to wait til fall, they have hastened their nuptials.
Rumor says Lida Remick & Mr. Crook or Brook are to be married very soon.10 "May I be there to see." I am glad that Sis and Remick have settled. I have feared that should she marry a man who was disposed to examine closely into the settlement of her estate, there might be some serious trouble. The settlement is as nearly right as it can be made, & I feel satisfied she has lost nothing. I hope she enjoys married life and may be ever happy. Abbie [Remick] seems to be surrounded with a world of trouble. The trials may make her a better woman.
I hear cannon booming off to our right and occasionally to the front. I have heard no reply from the enemy yet. It is singular the Rebs use so few cannon.11 Some of their prisoners say that every time they open a Battery we either knock it all to pieces or capture it.
Alf Huetson was here yesterday. He is now first Asst. Topr. Engr. at Corps Hd. Qurs. He enjoys life finely & has a very pleasant position. Nate [Hill] has lay down and is fast asleep. Cannonading is becoming more general all along the line. It is the time of day for the ball to open if they intend to do anything.
Bro. John's Battery [M, 1st Illinois] moved to the front of our line last night, but they have not gone to the front yet. They have been in reserve ever since Resaca.12 I think probably it is our turn now for awhile. We have been on the front line ever since the Campaign opened.
The Band have been playing almost constantly for the past few days, making it very pleasant. And the evenings are so beautiful, the moon & stars have shined brightly; music on earth and music in Heaven. How natural and easy for the mind to wander upward for the thoughts to centre around the throne of Grace. God has been most bountiful in blessings to us. Let our hearts praise him.
Night before last, we sat upon the fortifications singing until quite a late hour. The Chaplain came up, & we invited him to pray. It brought back so many dear remembrances of by-gone times. I have enjoyed very much of God's presence and love in my heart, & I hope by his Grace to do his will and carry out His design in placing me here. The pleasures & comforts of Home often cross my mind. The Love of a Dear Wife and friend are ever present with me, but God will in his own good time restore me to them if consistent with his will. I will work on, cheerfully trusting to him alone for results.
I feel much anxiety at times for your approaching trial.13 May God be with you and deal kindly with you. I would that circumstances were such that I could be with you, but there is no certainty of that. "Trust in God. He will never leave thee or forsake thee." "Sorrow endureth through a night, but joy cometh in the morning." I earnestly hope that the pleasures of maternity may more than counterbalance all your trials. May the desires of your heart be granted and the richest blessings of Heaven rest upon you.
Kiss Mother & Maggie for me. I know Mother [Murphy] will take good care of you; be cheerful and, if possible, contented. In my letter of yesterday, I told you of the arrangement I have made with Allen Fellows to furnish you with what money you may need.14 He wrote to his wife also, but I think did not get his letter off. Remember me kindly to all.
Here comes the news that Richmond is taken.15 A dispatch, it is said, to Genl. Sherman. All the Bands of this Corps are assembling. There will be a tumult here shortly; the boys are dancing already. We will know certainly very soon, but we hear so many rumors that I cannot credit them. The taking of Richmond was only a question of time, but we did not expect it so soon. Our latest news from there, however, was the 28th of May, & there has been time enough since to fight several hard battles.
It is dinner time. I have endeavered during the forenoon to write while at leisure, with the hope to contribute to your happiness and add pleasure, and, if possible, profit to the perusal of my letter. You have already received assurance of my love and desire for your happiness. You have still as ever the confidence and affection of a true heart. Accept therefore all I have to give, and may we under the blessings and direction of Our Heavenly Father live to enjoy each other's society, [&] be useful to all around us in being the instruments in His hands of leading many to Christ, and when life is over meet with all our love around His throne in Heaven.
"There shall be no night there." Rev. 21-25
And I will betroth thee unto me forever. Hosea 2-19
The Lord will give grace and glory. Psalm 84-11
Also – Rom. 8-28, Psalm 25-10, Matthew 12-20, Gal. 6-9, Isaiah 9-20, Rev. 3-11, John 14-3, 1st Peter 5-4, Rev. 21-3&4.
Your Affect. Husband
J. F. Culver