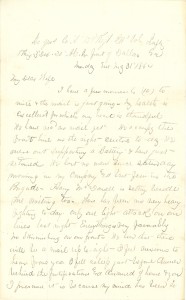 Hd. Qurs. Co. "A" 129th Regt. Ills. Vol. Infty.
1 Brig. 3rd Div., 20th A.C. In front of Dallas, Ga.
Monday Eve. [sic] May 31st 1864
My Dear Wife
I have a few moments (10) to write, & the mail is just going. My health is excellent for which my heart is thankful. We have recd. no mail yet.
We occupy the front line on the right centre to-day.1 We were out supporting a "Battery" & have just returned.2 We lost no men since Saturday [the 28th] morning in my Company and but few in the Brigade.
Harry McDowell is setting beside me writing too. There has been no very heavy fighting to-day, only one light attack on our lines last night. Everything is very favorably; no skirmishing on our front.
We hear that there will be a mail up to-night. I feel anxious to hear from you. I fell asleep just before dinner behind the fortifications and dreamed of home & you. I presume it is because my mind has been so much occupied with Home thoughts since Harry's return.3 I waked up imagining your arms around my neck & your head resting on my breast. May our Father in Heaven bless and keep you, preserve you in health and strength. I am very well contented & feel happy in the discharge of duty.
Give my respects to Miss Emma Thayer, Harry's friend. Give my Love to Mother [Murphy] and Maggie & Remember me kindly to all. Write to Mother Culver often & let her know that I am well. May God keep you by Grace and bless us as we need, and hasten the day when we may unite our hearts with our voices in his praise and enjoy the pleasures and comforts of Home. Good bye.
Your Affect. Husband
J. F. Culver
On the 27th, General Sherman had sent General Howard, reinforced by units from the Army of the Ohio, to feel for the Confederate right. The Federals found the Rebels at Pickett's Mill and were repulsed with a loss of about 1,500. General Hardee's corps on the Confederate left on the 28th made a forced reconnaissance of the position held by McPherson's Army of the Tennessee east of Dallas and was repulsed with heavy casualties. Cox, Atlanta, pp. 76-87. Ward's brigade on the 27th advanced its lines under a heavy fire to within a few hundred yards of the Confederate breastworks at New Hope Church and entrenched. In the day's skirmishing, the 129th Illinois lost one killed and 10 wounded. Next day the brigade was relieved by the 2d Brigade, and on going to the rear was posted near a battery, "at which the enemy's guns were firing. . ., every moment a shell exploding over or near us and cutting off the branches of the trees." Grunert, History of the 129th Illinois, pp. 68-70; O.R., Ser. I, Vol. XXXVIII, pt. II, p. 366. [↩]
The 129th was on picket on May 31, and was fired on by Rebel sharpshooters posted in the upper story of a house. To discourage the greyclads, two cannon were advanced to the picket line, and "a few shots from them stopped the mad firing of the Rebels." Grunert, History of the 129th Illinois, p. 70. [↩]
Lt. Harry McDowell had rejoined the regiment after a three-month absence in Illinois on recruiting duty. Compiled Service Records of Union Soldiers, NA. [↩]