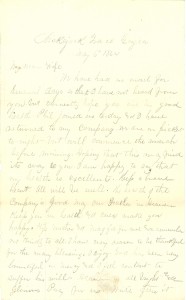 Nickajack Trace, Georgia1
May 6th 1864
My Dear Wife
We have had no mail for several days, so that I have not heard from you, but earnestly hope you are in good health. Phil [Plattenburg] joined us to-day, and I have returned to my Company.2 We are on Picket to-night but will commence the march before morning.
Hoping that this may find its way to you, I am happy to say that my health is excellent. Keep a brave heart. All will be well.
The health of the Company is good. May our Father in Heaven keep you in health and ever make you happy. Kiss Mother [Murphy] and Maggie for me and remember me kindly to all. I have every reason to be thankful for the many blessings I enjoy. God has been very bountiful in mercy, and I feel content to suffer his will. Heaven is all bright and glorious. Pray for us. Write often; it may be several days before I have another opportunity to write.
May Holy Angels guard thee, and all our hopes of happiness be centered in Heaven. Accept all the love of an affect. heart.
Good bye.
Your Husband
J. F. Culver
The division remained in camp at Pleasant Grove Church on the 5th, and late in the day soldiers of the 129th drew three days' rations. On May 6, the division broke camp at an early hour and turning south halted on the Nickajack Trace, east of Leet's Tanyard. O. R., Ser. I, Vol. XXXVIII, pt. IV, p. 44. General Johnston on the 5th had ordered his infantry and artillery out of their camps and into defensive positions along the rugged ridges and in the gaps. Lt. Gen. William J. Hardee's corps was on the left with his men holding Rocky Face; Lt. Gen. John B. Hood's corps guarded the right, where the line bent down to the east of Dalton; and Maj. Gen. Joseph Wheeler's cavalry covered the flanks, guarded the gaps through Taylor's Ridge, and observed the advance of the Union columns as they felt their way forward. Gilbert E. Govan & James W. Livingood, A Different Valor: The Story of General Joseph E. Johnston, C.S.A. (Indianapolis, 1956), p. 262. [↩]
Adjutant Plattenburg had been sent to Louisville with money contributed by the officers and men of the 129th to purchase a gift horse and saddle and bridle for Colonel Case. [↩]