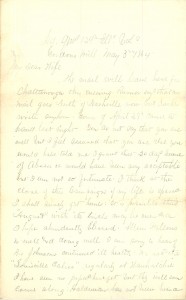 Hd. Qurs., 129th Ills. Vols.
Gordon's Mill, May 3d 18641
My Dear Wife
The mail will leave here for Chattanooga this evening. Rumor says that no mail goes North of Nashville now, but I will write anyhow.
Yours of April 28th came to hand last night.2 You do not say that you are well, but I feel assured that you are else you would have told me. I grant that 20 days' Leave of Absence would have been very acceptable, but I am not so fortunate. I think at the close of this Campaign, if my life is spared, I shall surely get home. It is possible that "August" with its trials may be over and I hope abundantly blessed.3
Allen Fellows is well and doing well.4 I am sorry to hear of Bro. Johnson's continued ill health. We recd. the "Louisville dailies" regularly at Wauhatchie. I have seen no papers here yet, but they will soon come along. Haldeman has not been heard from for a long time.5 I am surprised to hear of Harry McDowell's intention to resign.6 I have had no opportunity to answer his letter.
We have but little paper with us, and, if we are to be kept in the field in this way, I fear I shall soon have to stop writing for want of paper. I cannot spare any to write to anyone except my Wife, so all my letters must remain unanswered. Write to Mother [Culver] often. Tell her that I have to carry all the paper and envelopes for the campaign in a haversack and the supply is very limited.
I wrote to you yesterday from Lieut. Donaldson's tent;7 his Brigade left this morning for Ringold. We will probably stay here a few days. We are just notified that a train leaves in an hour, & the mail must be sent in immediately.
Chris [Yetter] is sick lying on my bed; he is not bad and will be all right as soon as he is rested. Bart Allen is very sick. Co. "A" were sent out on Picket last night after the march.
We have a very pleasant camp. It was very cold last night, and we had a heavy frost. It is quite cool to-day. This climate is unaccountable, the nights are very cold and the days hot.
I hope to get another letter by the wagon train to-morrow. The nearest place to Rail Road here is Ringold, 8 miles. This is the first time we have been off the Rail Road since we left Bowling Green. "Buzzard's Roost," a Rebel stronghold, is 10 miles front of us. There are about 35,000 troops there.8
I must close for the mail. Allen [Fellows] is setting here and wishes you to tell her [his wife] he is well and that he has not felt better since he has been in the service and where we are. May God bless you and keep you amid all your trials. I hope you may be happy. Do not allow yourself to feel uneasy about me. Trust all to God. Give my Love to all the family. I burnt all my letters before leaving Wauhatchie, as I do not much expect ever to see my trunk again. Write often, good long cheerful letters. Accept my Love and my heart's warmest affection.
Your Husband
J. F. Culver