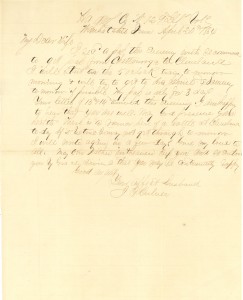 Hd. Qurs. Co. "A", 129th Ills. Vols.1
Wauhatchie, Tenn., April 20th 1864
My Dear Wife
I recd. a pass this evening with recommend[ation] to get pass from Chattanooga to Cleveland.2 I will start on the 5 o'clock train to-morrow morning, & will try to get to Bro. Johnie & Sammy to-morrow if possible. My pass is only for three days.
Your letter of 13th & 14th arrived this evening.3 I am happy to hear that you are well. May God preserve your health.
There is a rumor here of a battle at Cleveland to-day.4 If it be true, I may not get through to-morrow. I will write again in a few days. Give my love to all. May our Father in Heaven keep you, and so endow you by grace Divine that you may be continually happy. Good night,
Your Affect. Husband
J. F. Culver