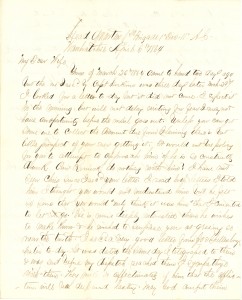 Head Quarters, 1st Brigade, 1st Div., 11th A.C.
Wauhatchie, April 6th 1864
My Dear Wife
Yours of March 26th 1864 came to hand two days ago, but the one I recd. by Capt. Hoskins was three days later, Mch. 29th.1 I looked for a letter to-day, but it did not come. I expect it in the morning but will not delay writing for fear I may not have an opportunity before the mail goes out.
Unless you can get someone to collect the amount due from Fleming, there is but little prospect of your ever getting it.2 It would not be policy for you to attempt to approach him if he is so constantly drunk. Can Remick do nothing with him?
I have not seen Chris [Yetter] since I recd. your letter. I read both letters. I told him I thought you would not understand him, but he felt so sure that you would "only think it was him" that I consented to let it go. He is more deeply interested than he wishes to make known, & he wished to surprise you at guessing so near the truth.
I recd. a very good letter from Joe Shellenbarger's sister to-day.3 It was dated the same day I telegraphed to them & was sent before my dispatch reached them. I sympathize with them. They wrote so affectionately of him that the affliction will be deep and lasting. May God comfort their hearts.
I recd. a letter from Bro. Wes [Culver] to-day.4 He tries to explain Sister Beccie's letter. Mother was not at home. I will send you his letter when I get time to answer it. I do not fully understand what school exhibition you speak of and who had charge of it.
My health is very good. I moved into the new house yesterday evening. It is very pleasant for office purposes; we have six desks and tables in it, all occupied so that there is but little room left. Ben Thompson, Henry Polk, the two Pembertons, Billy Sheets, and Charlie Peck built it. Ira Ong helped a few days.5 The boys are now planting Pine trees and making gravel walks.6 The weather has been very pleasant to-day.
We received information unofficially this evening that the 11th & 12th Army Corps will be consolidated and form the 1st Army Corps to be commanded by Genl. Hooker.7 Another rumor says that as soon as the balance of the troops come up, we will advance by way of Knoxville on Richmond.8 This last is most probably unfounded & unreliable. The former is probably correct.
Everything is quiet here. A soldier's wife of the 102th Ills. arrived here to-day on the cars. I did not see her but heard of her arrival. There are some of the soldier's wives of the Eastern Regts. here. I saw one or two in the neighborhood of Genl. Howard's Hd. Qrs. I cannot imagine how they stay here, but almost everything is possible now-a-days.
It has drawn near midnight. Dr. Reagan has been here for the last hour.9 I let him read Miss Shellenbarger's letter, & our conversation has been directed by it to religion. He was very much interested in Joe Shellenbarger & done all for him that could be done. It is said still water runs deep, so it proves in his case. He was always so quiet & seemed to be moved by nothing, but to-night I was permitted to look into his heart & I find it full of love and sympathy. He was called away to attend a patient but requested another opportunity to talk about heartfelt religion. I feel very much benefited by his company. He is a very learned man & is our Brigade Surgeon.
May God bless you, my Dear Wife, and keep you in health and strength. Late as it is, I think it my duty to answer Joe's sister's letter, so good night. May Heaven's blessings rest upon you.
Your Affect. Husband
J. F. Culver
Lieut
I almost signed my official signature.