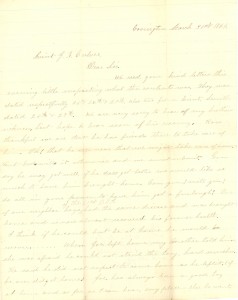 Covington March 31st 1864.
Lieut. J.F. Culver.
Dear Sir.
We recd. your kind letters this evening little suspecting what the contents was. They was dated respectfuly 24th, 26th & 27th. also two from Lieut. Smith dated 25th & 27th. We are very sorry to hear of my brothers sickness, but hope to hear soon of his recovery. How thankful we are that he has friends there to take care of him. Oh! that he was near that we might take care of him. But God wills it otherwise and we must submit. You say he may get well, if he does get better we would like so much to have him brought home. Can you? will you? do all in your power to have him get a furlough? One of our neighbor boys of the 61st O.V.I. had the same disease and was brought home and is now almost recovered his former health. I think if he could but be at home he would recover……. When Joe left home my Mother told him she was afraid he could not stand the long, hard marches. He said he did not expect to come home as he left it, (if he ever did get home.) Joe. has always been a good boy at home and as far as I can hear, evry place else he went.
He was my only play mate when we were small. I being almost three years younger than him. It is hard but I will try to say "Thy will not mine Oh! Lord be done." Please write evry day and let us know how Joe. is getting. We will be so anxious to hear. See that he has evry thing that is necessary to make him comfortable cost what it will. if you can get it. Joe has money here on interest that we can get at any time. Get things and pay for them and send us the bill and we will pay you back. I think [Sephus?] Ullery will do the best he can. When my brother is able to talk talk to him. He is unconverted. Oh! that he were a Christian. Please ask him (if he is no better) if he would sooner be sent home if he should die. It is Mothers wish that he should. We still hope for the best. I will close.
Take good care of him and God will bless you. A mothers blessings and sisters prayers will go with you. Pray for us that we may be able to bear the worst. Pleas pardon this broken letter, for I hardly know what I'm writing.
I am as ever,
Joe's Sister
Delia A. Shellenbarger.
Please read this other letter to Joe if he is not able to read it himself and oblige
Delia.