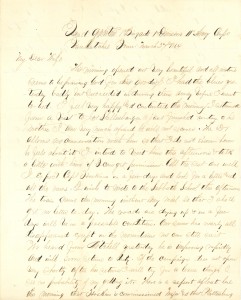 Head Quarters, 1st Brigade, 1st Division, 11th Army Corps
Wauhatchie, Tenn., March 27th 1864
My Dear Wife
This morning opened out very beautiful, and all nature seems to be praising God for his goodness. I had the blues yesterday badly but succeeded in driving them away before I went to bed. I feel very happy and contented this morning.
I returned from a visit to Joe Shellenbarger & just finished writing to his mother.1 I am very much afraid he will not recover. The Dr. allows no conversation with him, so that I do not know how he feels about it. I intend to visit him this afternoon & talk a little with him if I can get permission. All the rest are well.
I expect Capt. Hoskins in a few days and look for a letter and all the news. I wish to write to the Sabbath School this afternoon.
The train came this morning without any mail, so that I shall get no letter to-day. The roads are drying up & in a few days will be in a passable condition. Our snow has nearly all disappeared, except on the mountains we can still see it.
We heard from [Lieutenant] Mitchell yesterday, he is improving rapidly and will soon return to duty. If the campaign does not open very shortly after his return, I will try for a leave, though I see no probability of my getting it.
There is a report afloat here this morning that Hoskins is commissioned Major and that Plattenburg has been recommended for the Captaincy of Company "A."2 It is only an alarm I think among the boys. The news reached me from the Company this morning.
I am so closely confined to the office here that I gather but little information. Alf Huetson is appointed Topographical Engineer of this Brigade and is now on duty here. An effort is being made to get him a Commission. McCartney is expecting James Murphy here to-day.3 I do not know why Bro. Johnie has not written to me. I have written twice or three times since we went into Camp. I have recd. no letters lately from any source.
I heard singing in the Camp of the 129th Ills. this morning & think there was preaching there. I may possibly take time to write to Sis. This afternoon. I shall look for a long letter from you written to-day. The mail is just going & I must close. Give my love to All. May God bless you & help you to enjoy this holy Sabbath.
Ever your Affectionate Husband
J. F. Culver
Private Shellenbarger was confined in the brigade hospital with pneumonia. Compiled Service Records of Union Soldiers, NA. [↩]
Captain Hoskins was not promoted major of the 129th until June 28, 1864, but he was to rank from February 27. He would occupy the billet vacated by promotion of Thomas H. Flynn to lieutenant colonel. There was no truth to the rumor that Adjutant Plattenburg was to replace Hoskins as captain of Company A. Ibid. [↩]
Edward McCartney, a 44-year-old farmer, was mustered into service as a private in Company B, 129th Illinois, on Sept. 8, 1862. He was detached as a musician in the brigade brass band on Feb. 2, 1864, and was mustered out near Washington, D.C., June 8, 1864. Ibid. [↩]