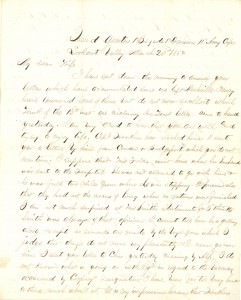 Head Quarters, 1st Brigade, 1st Division, 11th Army Corps
Lookout Valley, March 20th 1864
My Dear Wife
I have sat down this morning to answer your letters which have accumulated since we left Nashville. I may have answered some of them, but do not now recollect which. Yours of the 12th inst., one enclosing Bro. Tom's [Thomas Murphy's] letter, came to hand yesterday.1
I am very glad to hear that you are well and trying to enjoy life. Capt. Hoskins has reached home. I sent you a letter by him from Cowan or Bridgeport which you do not mention. I suppose that Mrs. Folks went home when her husband was sent to the Hospital. She was not allowed to go with him, & he was full two miles from where she was stopping. I presume also that they had not the means of living when no rations were furnished.
I am not much surprised at Mrs. Smith's statements, for I think [Lt. John W.] Smith was always of that opinion. I cannot tell how he is getting along, except as remarks are made by the boys [of Company A], from which I judge that things do not move very pleasantly. I never go near him.2 I sent your letter to Chris [Yetter] yesterday evening by Alf. [Huetson].
I do not know what is going on in the Regt. in regard to the vacancy occasioned by [Lt. Col.] Cropsey's resignation. I have been far too busy here to think much about it. It is my impression, however, that Hoskins will be made Major, in which event I shall get the Captaincy of the Company.
Bro. Gaff recd. a letter from his wife on Friday.3 He was very much alarmed, as he had not heard from her for a month. I do not understand why Jim Morrow & Harry McDowell should act so shabbily; I will call them to an account when they return. I will send Bro. Thomas' Letter to Johnie tomorrow.
In several of your letters you speak of having headache, from which I judge that it is a very constant companion. Cannot you get something to relieve you? You say you have not collected anything of Fleming yet. I want the matter attended to immediately. If not soon collected, you will never get it. You can learn through Remick the amount. I understand his [Fleming's] business is assuming a rather doubtful shape. Employ an attorney if necessary.4
I cannot tell what to do for Lawrence; ask Thomas Hill to arrange matters as well as he can.5 As there is no prospect of pay here, I dare not spare the little money I have on hand. You can say to Thomas Hill that if he has no use for the money sent him by Tom Smith, Joe Shellenbarger, and Chris [Yetter], I can borrow it; or, if he prefers, he can use it in lifting my notes & waiting awhile. Do the best you can.
I am doing what I never done before. I am compelled to burn your letters, as I have no way to take care of them. My desk is a public one & open to every one, & my valise is too small for my clothing. I am reading them & then consigning them to the flames. It seems almost Sacrilegious; 11 are already gone. I wrote to you some time ago to get the amount of the order on Lyons; it will be safer to do so. I have just finished reading and destroying your letters. There was 27 in all. I wonder whether your list is as large. The train has just come in, & I expect a couple of letters. The mails have been very irregular last week caused by the raid on the road at Estell Springs. The weather is very fine to-day. We had a general Review and Inspection at Genl. Howard's Hd. Qurs. yesterday.6 The Brigade looked very fine & was as large as the 2nd Division of this Corps.7
I intended to go to church this morning, but my clerk wished to go to Lookout Point; &, as he has been very faithful, I preferred to let him go. I shall try & get out to preaching this evening.
A few days ago an artist, who has a gallery on the top of Lookout [Point], was fixing something on the edge of the cliff, was approached by some ladies and in attempting to bow to them, he lost his balance, went over, and was instantly killed. His gallantry cost him his life.
Adgt. Mitchell, it is said, will not be able for duty for two months. I am now Acting A. A. Genl. of the Brigade & will be until his return.
Here is the mail: two letters for me, one from you, and one from Carlisle. Your letter is dated Mch. 13th but mailed Mch. 14th; it notices the death of Jay Pratt.8 I am sorry to hear of Mrs. Capron's danger.9 You say nothing of your own health. The other letter is from Jennie & Harry [Cheston]. All are well.
I intended to look over Beccie's letter and send it, but I have been all forenoon reading your letters & now it is nearly mail time. I will answer some this afternoon & send them to you to-morrow.
Some one sent me the "Ledger" from Nashville yesterday of Mch. 8th. I think it was [Pvt.] Joe Allen. Alf Huetson is now on duty at these Hd. Qurs. as Top. Engineer, & is recommended for appointment and also for a Commission. The latter may be a long time getting around. He is much pleased with his prospects.
I have not seen either Chris [Yetter] or Nate [Hill] to-day. All the Camps are fixed up very comfortably. I have not heard from Bro. Johnie yet. I will try & write to him again soon.
Capt. Hoskins will be returning soon. Send me a few pounds of fine cut chewing tobacco by him if convenient. I will try & write this evening for to-morrow's mail. May God bless you, my Dear Wife, & keep you in health and strength. Give my love to all the family & Remember me kindly to all our friends.
Your Affect. Husband
J. F. Culver