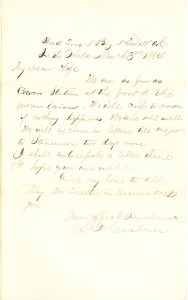 Head Qurs., 1st Brig., 1st Div., 11th A.C.
In the Field March 3rd 1864
My Dear Wife
We are as far as Cowan Station at the foot of the mountains;1 we will cross to-morrow if nothing happens. We are all well. We will receive no letters till we get to Stevenson, two days more. I shall anticipate a letter there.
I hope you are well. Give my love to all. May our Father in Heaven keep you.
Your Affect. Husband
J. F. Culver
The sky having cleared, the brigade broke camp on March 2 and travelled ten miles, halting after crossing Elk River. On the 3d a similar distance was logged. Grunert, History of the 129th Illinois, pp. 46-47. [↩]