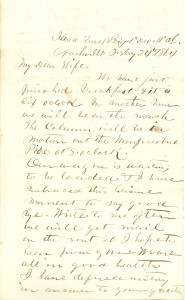 Head Qrs. 1st Brig., 1st Div., 11th A.C.
Nashville Febry. 24th 1864
My Dear Wife
We have just finished breakfast, & it is six o clock. In another hour, we will be on the march. The Column will be in motion out the Murfreesboro Pike at 8 o clock.
Our wagon is waiting to be loaded, & I have embraced this leisure moment to say good bye. Write to me often. We will get mail on the route, so I hope to hear from you. We are all in good health.
I have deferred writing in answer to your question because I thought I would get home. If you prefer, go to Mrs. McGregor's.1 Make yourself comfortable by all means & try & be contented and happy. May God bless & keep you.
Give my love to all,
Good Bye.
Your Affect. Husband
J. F. Culver
In one of her letters to J.F.C., Mary Culver had broached the subject of leaving her parents' home and taking a room at Mrs. M. J. McGregor's. Mrs. McGregor was a 45-year-old widow. History of Livingston County, p. 642. [↩]