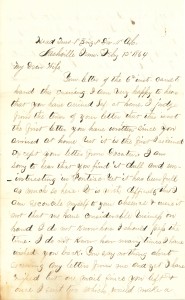 Head Qrs. 1st Brig., 1st Div., 11th A.C.
Nashville, Tenn., Febry. 12th 1864
My Dear Wife
Your letter of the 6th inst. came to hand this evening.1 I am very happy to hear that you have arrived Safe at home. I judge from the tenor of your letter that this is not the first letter you have written since you arrived at home, but it is the first I received except your letter from Decatur.2
I am sorry to hear that you find it dull and uninteresting in Pontiac, yet it has been full as much so here. It is with difficulty that I can reconcile myself to your absence & were it not that we have considerable business on hand, I do not know how I should pass the time. I do not know how many times I have wished you back.
You say nothing about receiving any letters from me, and yet I have missed but one mail since you left, & once I sent two which would make a letter every day since you left. I have not seen Bro. Sammy yet. I feel sorry that you did not get to see him, but you would probably have been fully as unfortunate. I should be glad to meet my old friends in Pontiac, but think you will not find a very great number so over-anxious as Mrs. Murphy [J.F.C.'s mother-in-law].
We are still laying on our oars in Nashville. We had Battalion drill to-day & we have Brigade School to-night. I look every moment for a summons to attend it. I did not see Hoskins to-day, but learn he is still improving. We are unable to learn how long we will remain here. It look[s] as if it might be several weeks unless the Rebs. make some demonstration on our Front.
How much I wish you were back here. We have been urging Col. Harrison to send for his wife, but he refuses to do so. If he does, I will get you a pass also. If I do not succeed in raising money enough for to purchase instruments for the Band, I will try & send enough money to pay the interest on all the notes due besides what you will require.
I can in a measure realize how dull it must be for you there. If I was there, it might be better, but I fear we will both find it dull after the excitement of Army life. You say "none of the outsiders suspect" you. Have you any good reasons to doubt it yourself, or have you still as tangible evidence as you had before you left.3 I am called to school; good-bye, until I return.
9 o'clock. I sit me down to finish my letter. I have had a bad cold for several days and my head aches wofully to-night. I took some blue mass last night, but it seems not enough. I feel very billious. I will get some more to-morrow if I am not better.
I wrote a letter to Remick a few days ago & enclosed it to you. I cannot account for the delay of your letters, unless they have been sent forward to Corps Hd. Qrs., which is very probable.4 I presume they are full of news. While I have been anxiously waiting for them, they are making a fruitless journey to Chattanooga. They will get back here, however, soon. I fear the Post master's clerks here are in the habit of sending all the mail to the front that they are not familiar with, and, as this Brigade always went by the name of Ward's Brigade, frequent errors occur.5
You have not mentioned either Mother or Maggie in your letter, yet I presume they are well. I wrote to Sister Hannah [Culver] to-day. I recd. a letter from [Marcellus] Collins this morning on business. The claim due McDonald has not yet been paid & nothing has been collected of Hallam. Bro. Thomas' claim is $100 less than I thought. Please send me his letter after you have read it. I wish to refer to it occasionally.
Remember me kindly to all the friends and especially the Sabbath School. Give my love to the family. Tell Maggie & Mother to write. Will you please copy for me, if you have an opportunity, the Song, "Mother Dear, Oh! pray for me."6 I have forgotten what book it was in, but I think the "Thanksgiving."
Write to me often. I would be pleased to attend the meetings in progress & hope they may result in great good.7 Write to me often. When you find the time hanging heavily on your hands, write to me, or when you are happy, write. At all times write & tell me how you are getting along. And may our Father in Heaven who has ever been so bountiful in blessings to us keep you by his grace and abundantly bless you. Hoping that I may hear from you soon & very often, I remain, as ever,
Your Affectionate Husband
J. F. Culver